Fountainbridge
Vita Student Fountainbridge, 125a Fountainbridge, Tollcross, Edinburgh, EH3 9QG
Fountainbridge
Vita Student Fountainbridge, 125a Fountainbridge, Tollcross, Edinburgh, EH3 9QG
Vita Student Fountainbridge's location is next-to-none, and just one of the reasons why so many students in Edinburgh line up to live here.
Building what's included
Spacious Hub
Coffee Lounge
Open Plan Private Dining Room
Gym
Poker Room
Laundry Room
Bike Store
Gaming Stations
Pool & Table Tennis Tables
Mahjong Tables
CCTV
Secure Key Fob Access
24/7 On-site team
Superfast Wifi
VIP discounts
On-site Printing
Standard features you get in every room type
Kitchen – microwave oven, hob, sink, fridge freezer
Ensuite bathroom – shower, mirror, sink, toilet
Double bed
Underbed storage
Smart TV
Opening window
Pull out study/dining table
Wardrobe
Mirror
Pinboard
Bin
Room types
Choose between five room types at Vita Student Fountainbridge, across eight floors. All studios include a kitchen, ensuite bathroom, study space and storage space.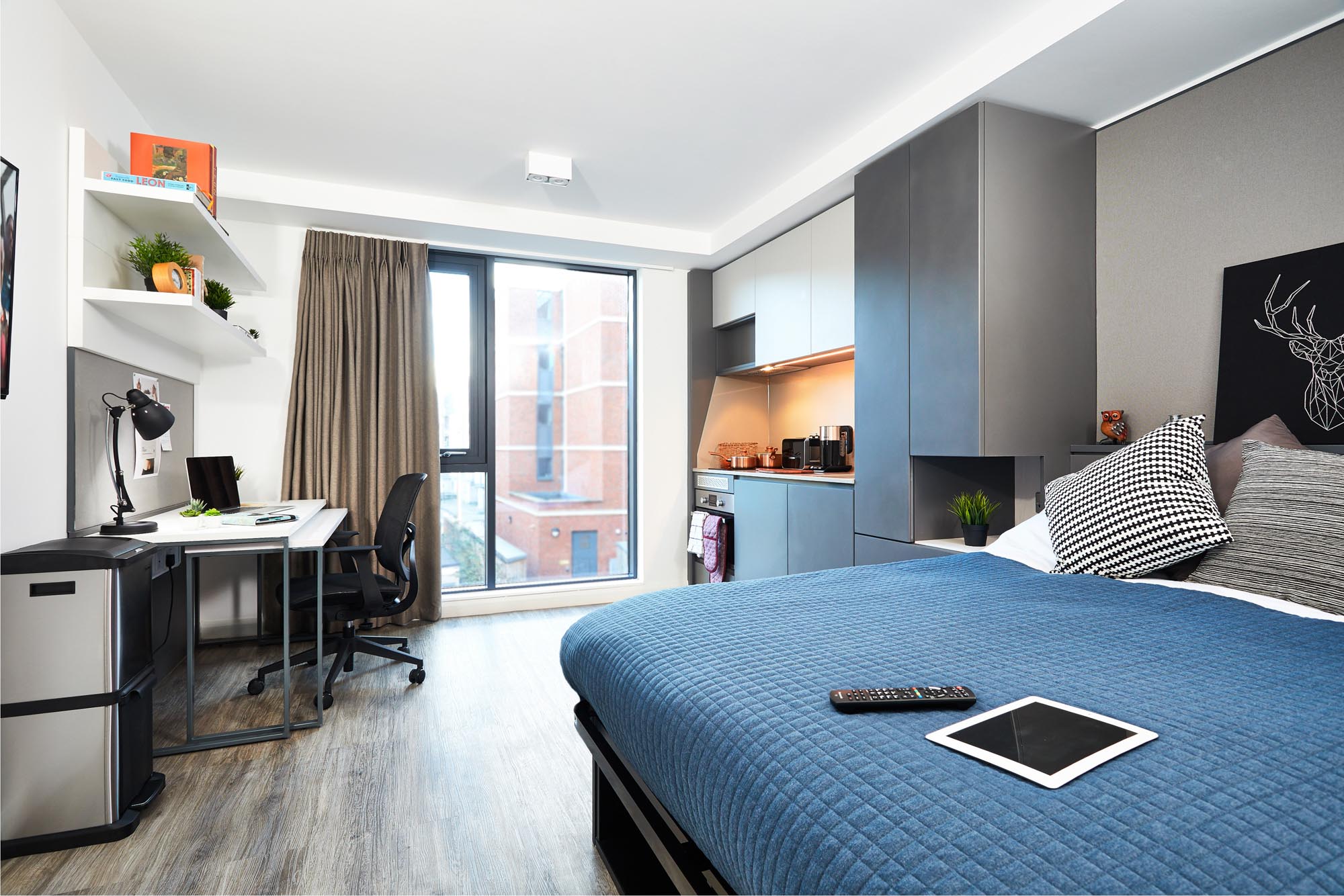 CLASSIC
The classic Vita Student studio, fitted with all the standard features covering everything you need.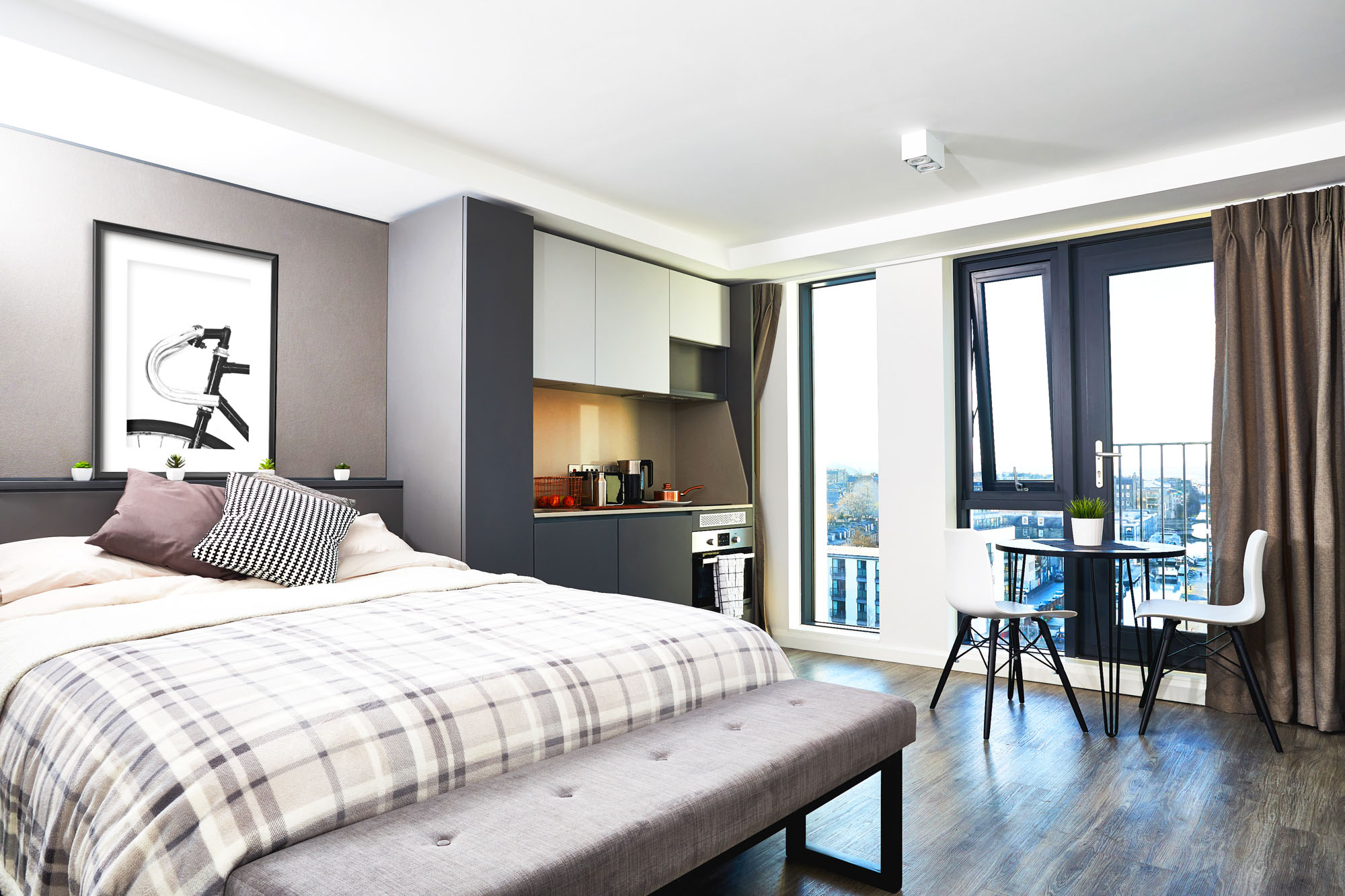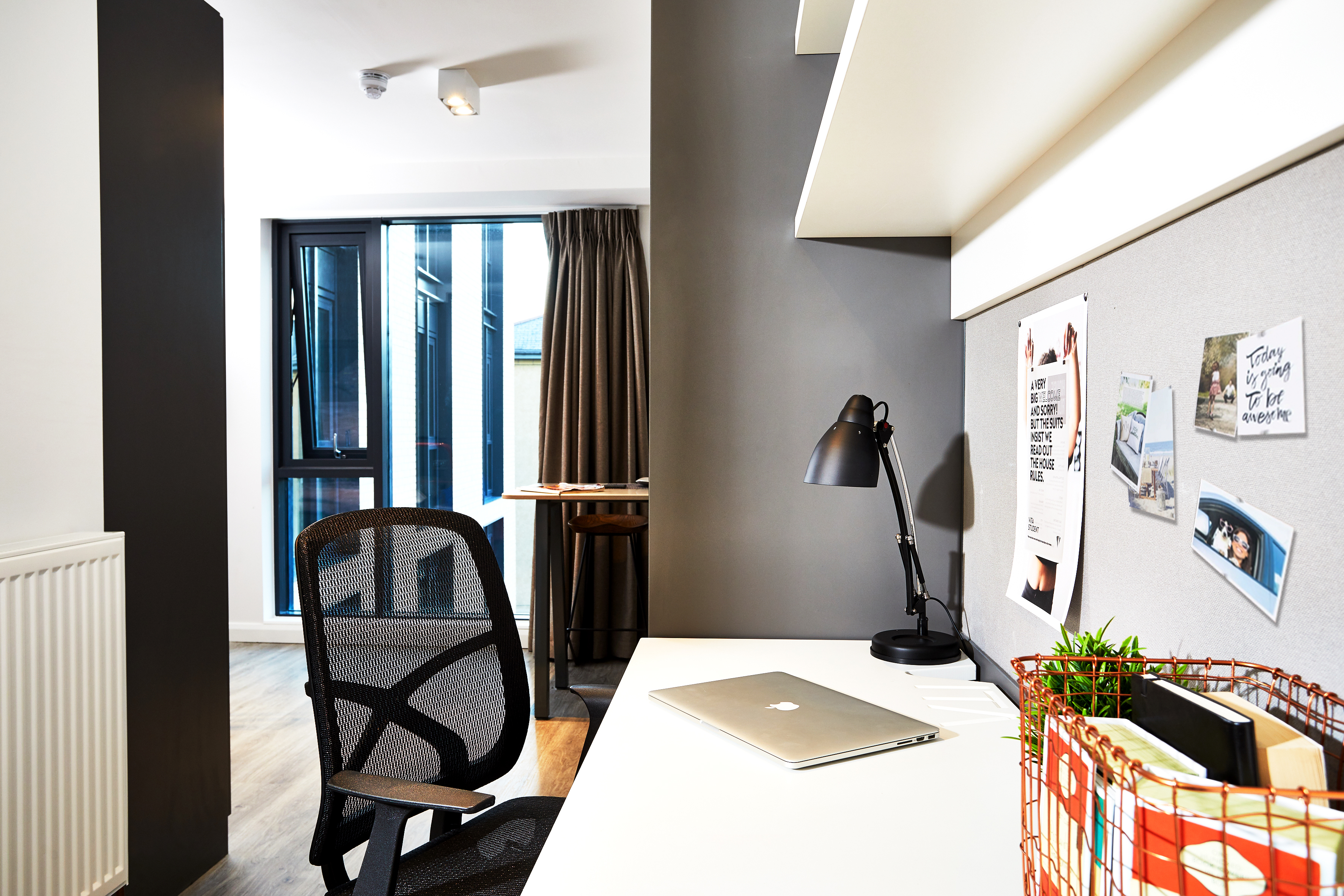 PREMIUM
Larger studios with all the standard features plus a desk, and some with a variety of additions like a breakfast bar or King Size bed.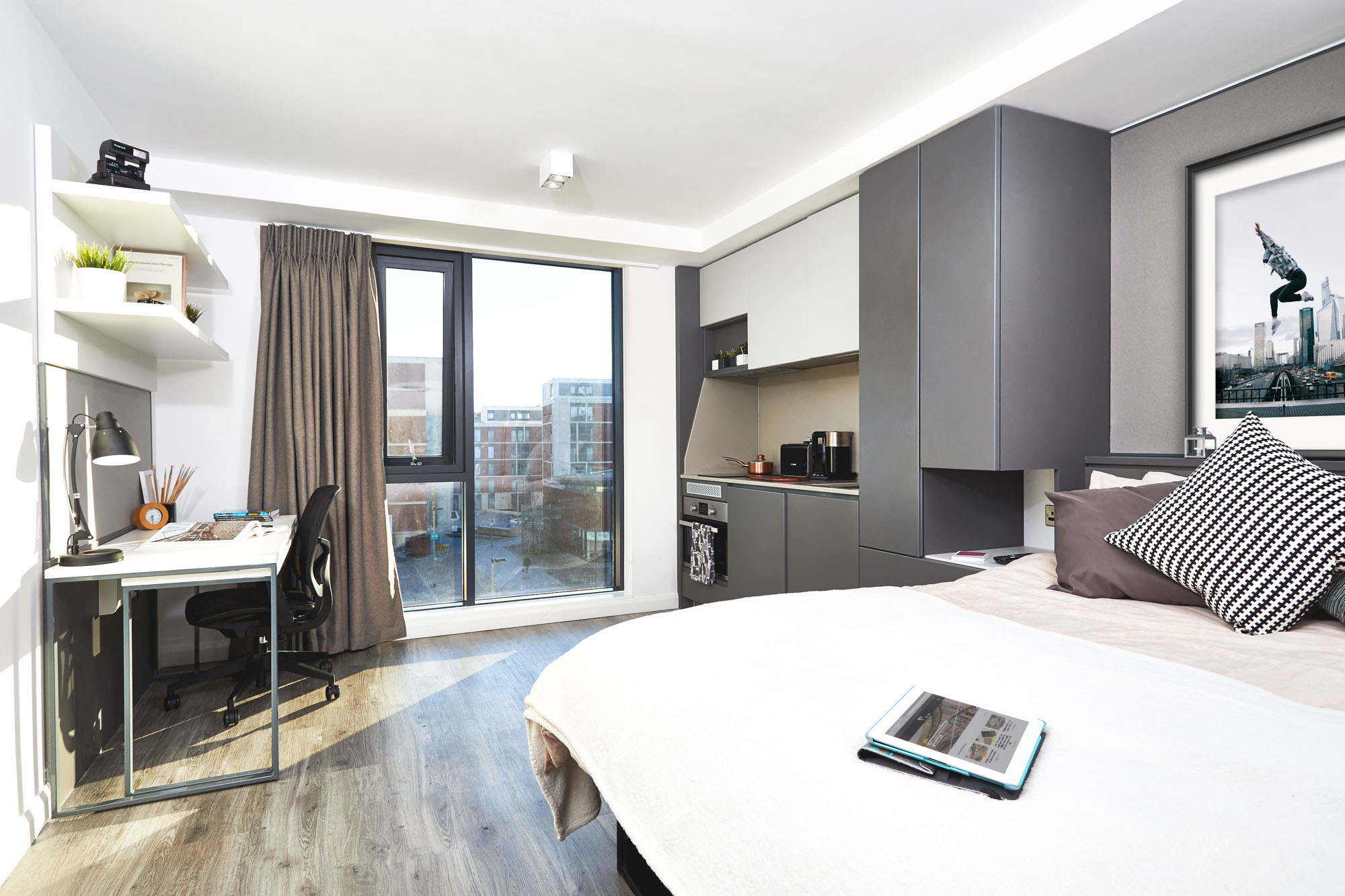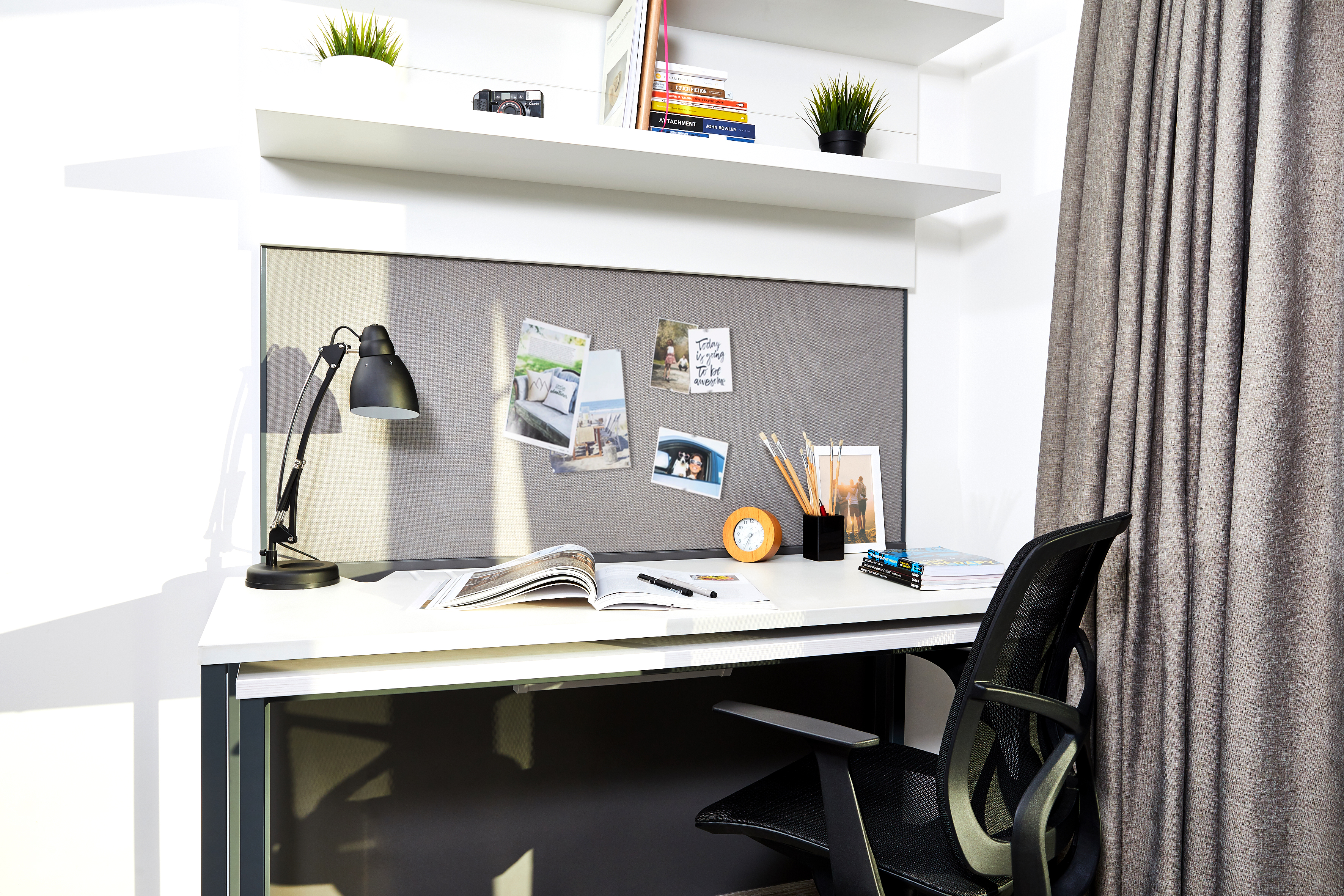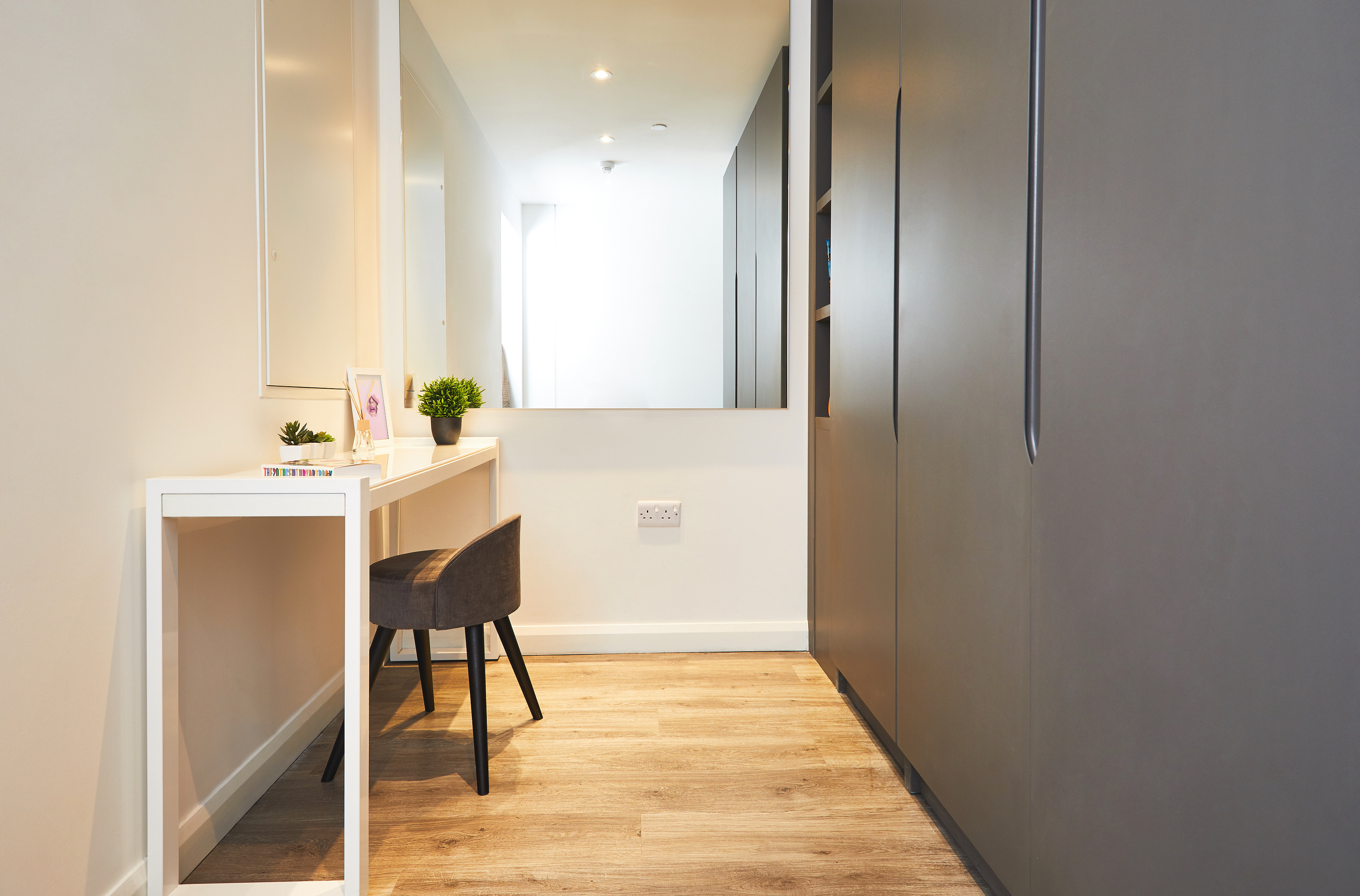 DELUXE
Spacious luxury with the added extras of a desk, walk in wardrobe and more floorspace.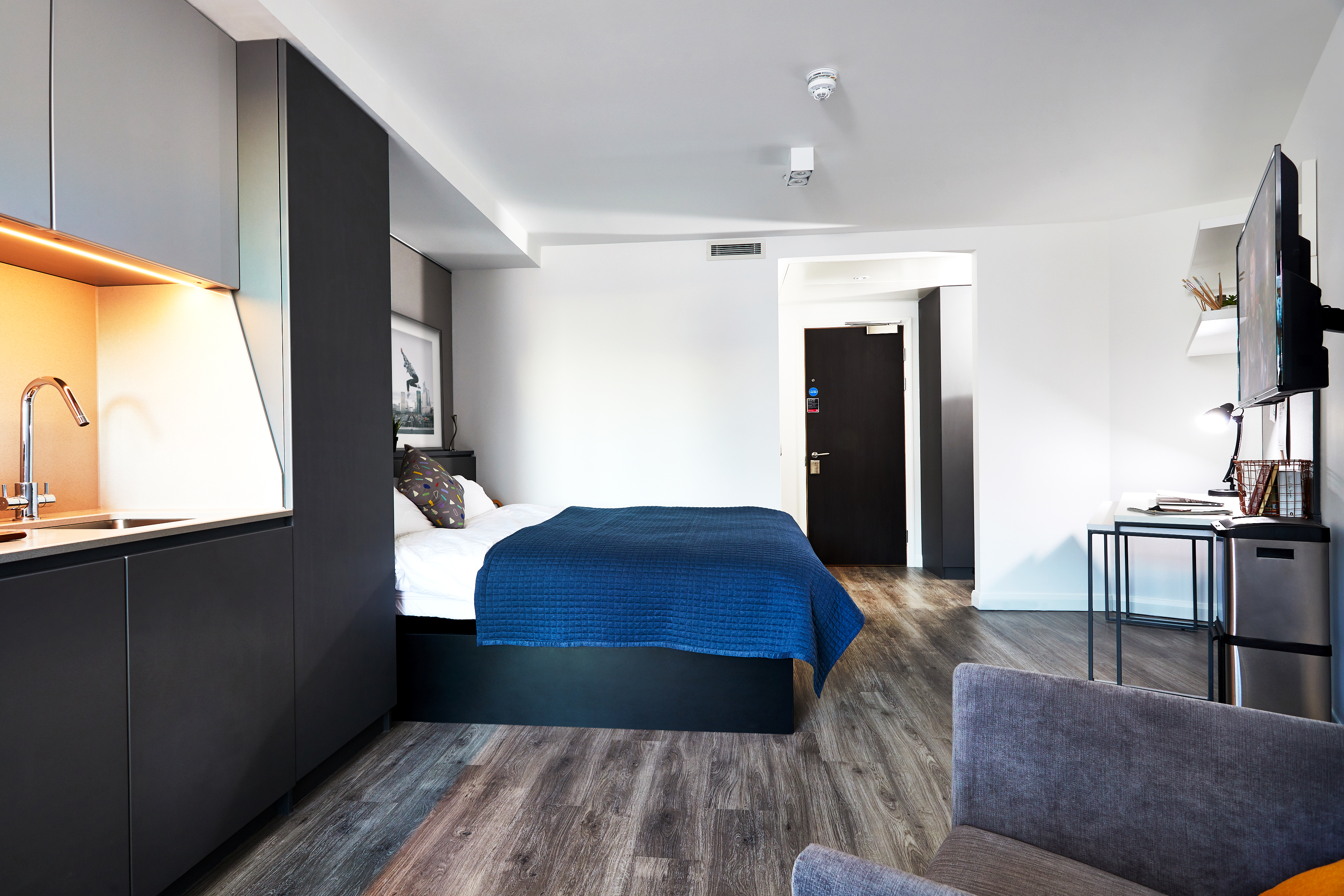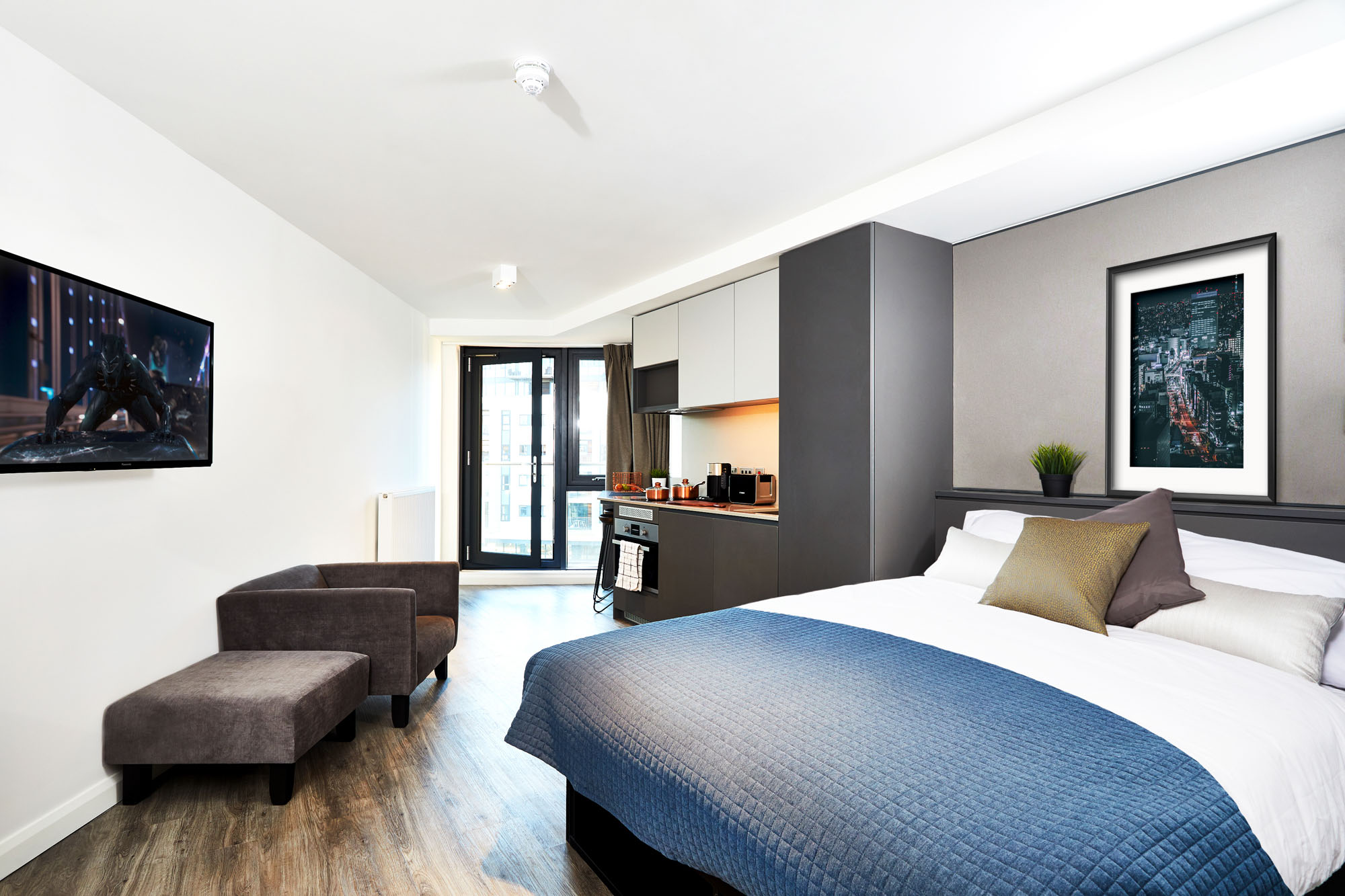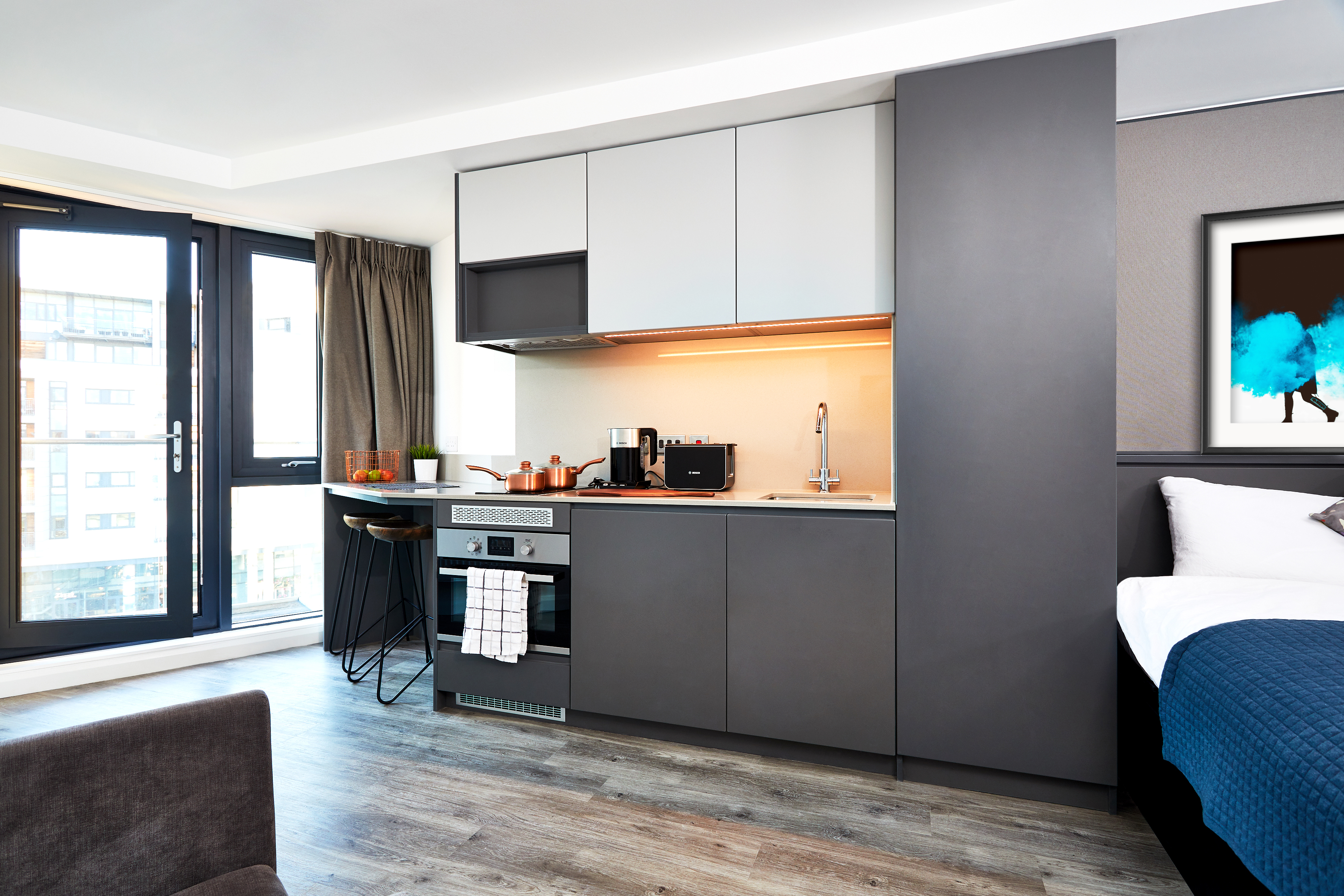 ULTIMATE
The best of Vita Student fully loaded with a King Size bed, armchair, desk, more floorspace and outdoor space too.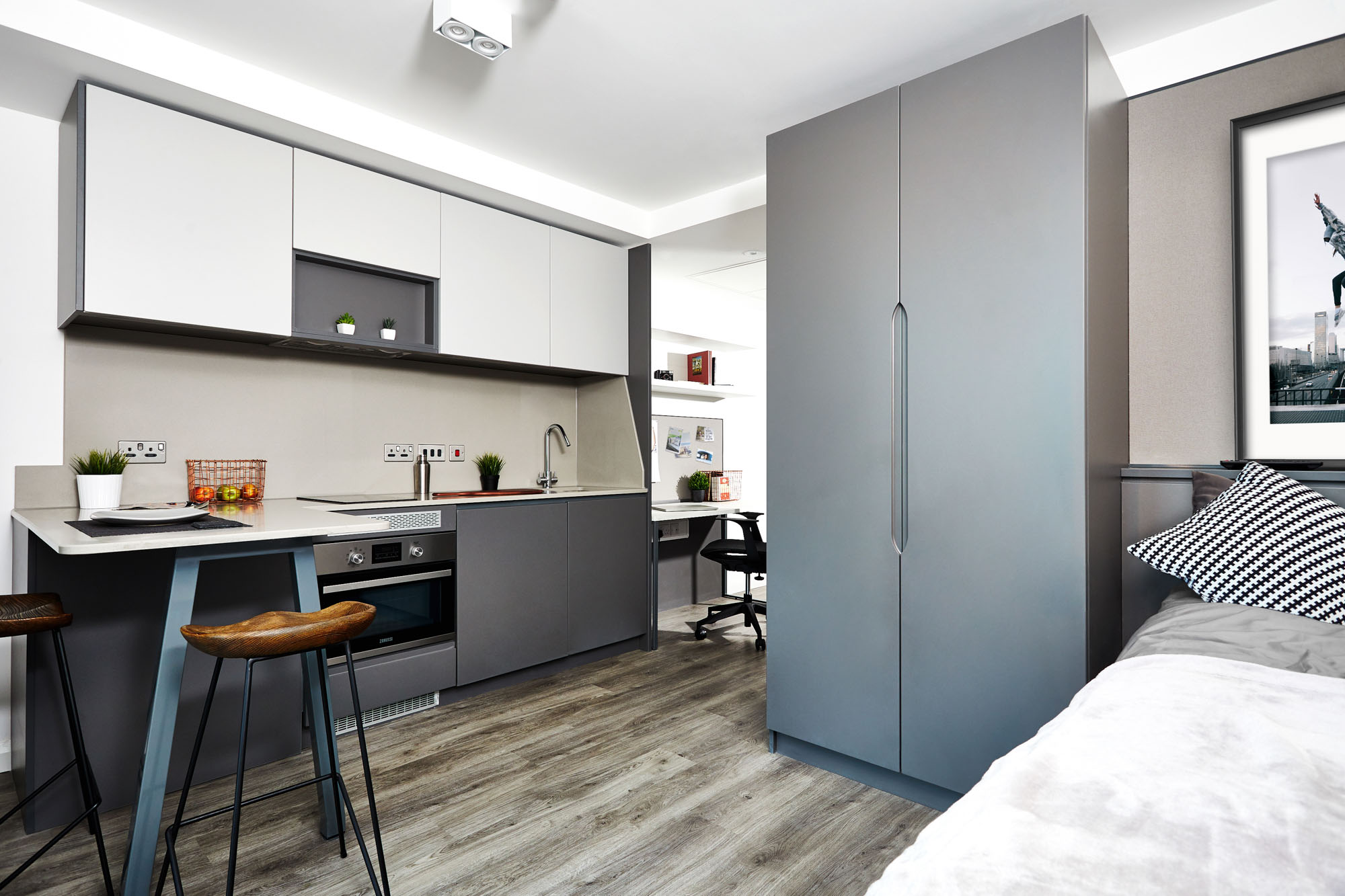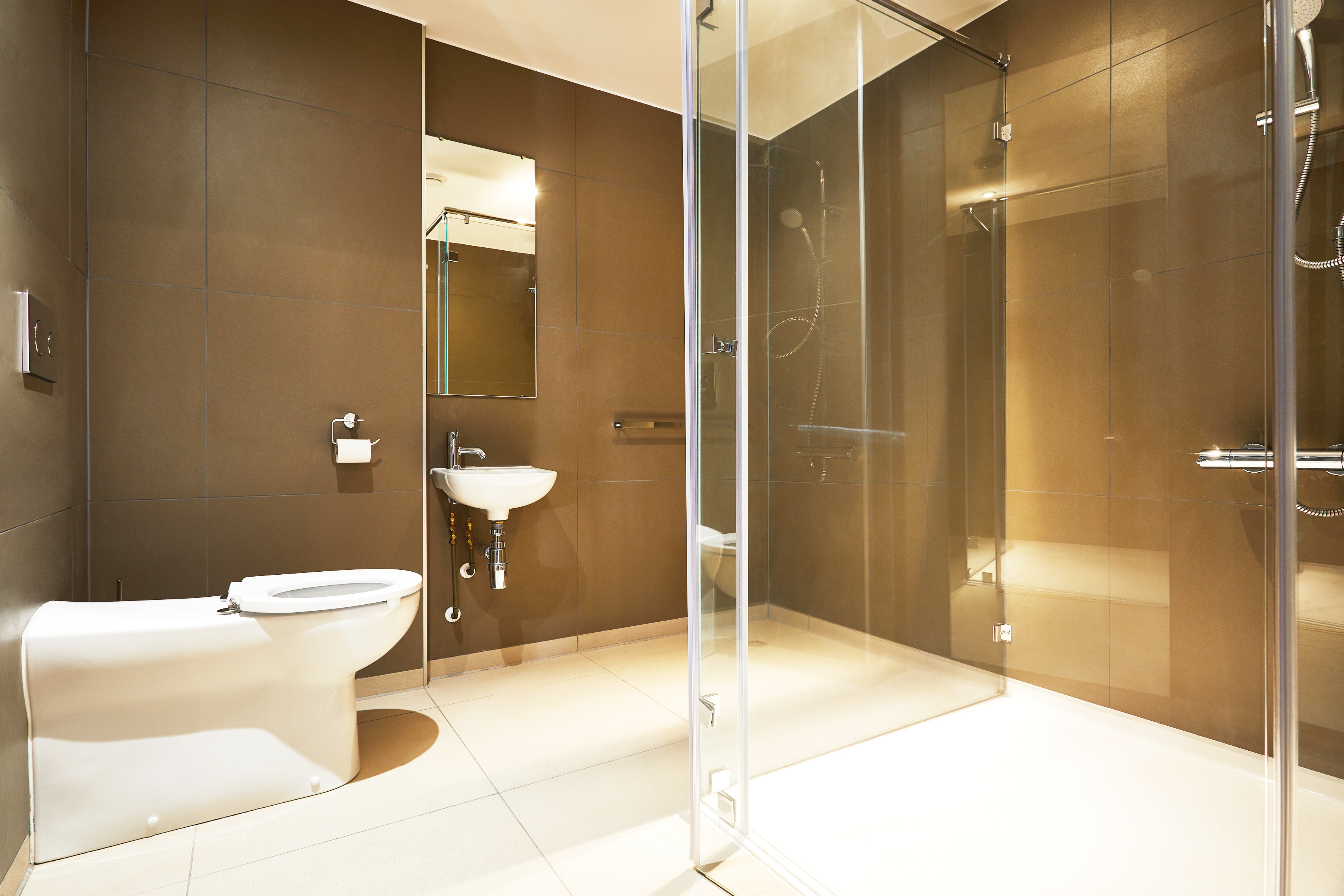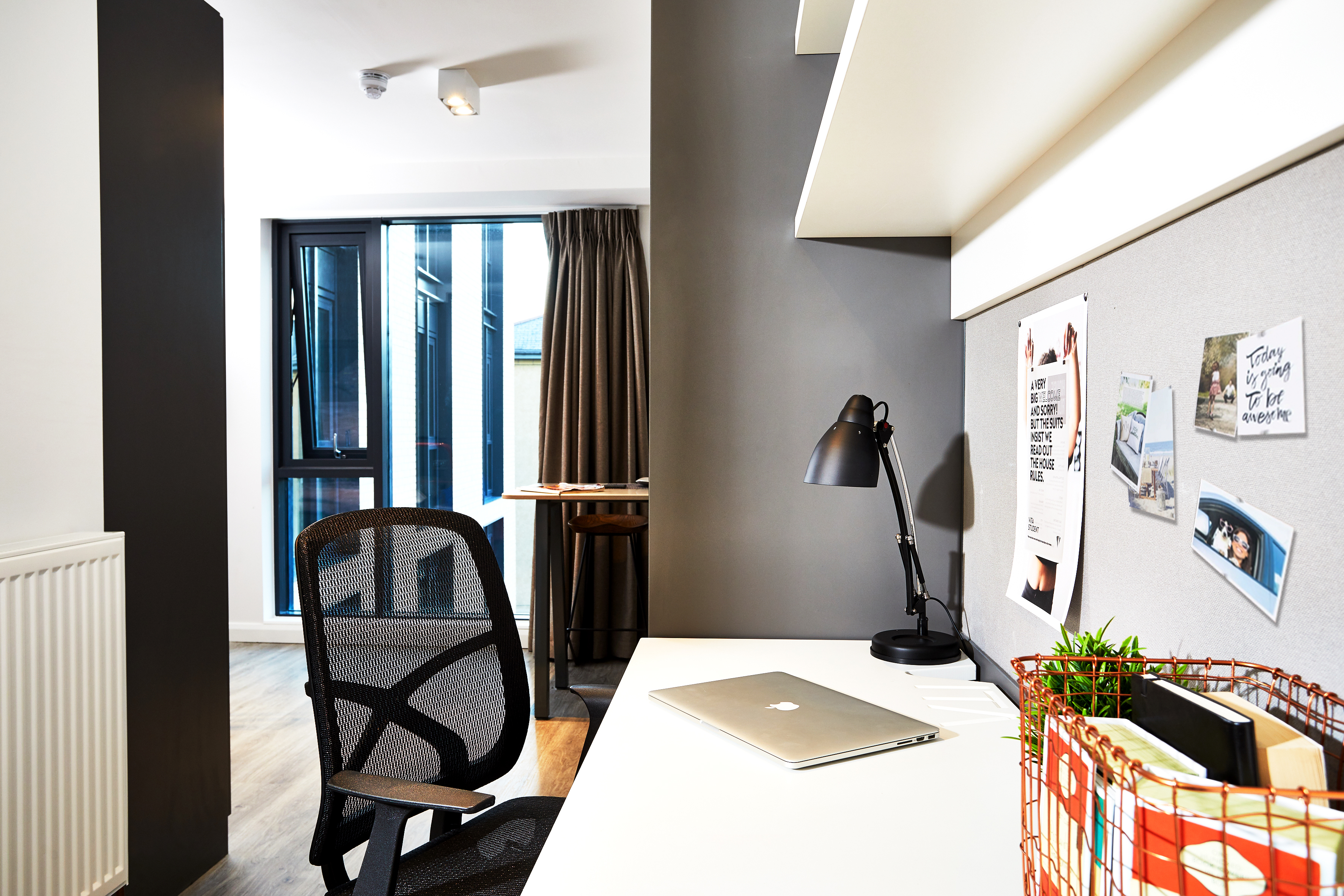 ACCESSIBLE
Easy access studios which can be adapted to suit individual requirements including all the standard features plus a desk.
Images are indicative of the quality and style of room types across our Vita Student buildings, and may not be exact representation of design, layout, fixtures and fittings.
WHAT WE'RE ABOUT
Vita Student is for students that want it all.
For students that want to live without limits.
With an all-inclusive service, living at Vita Student lifts some of the pressures from university life, allowing you to focus on your studies and your experience.
Our buildings are full of friendly faces from many different places. All here to make the most of their time at university. Whether you are creative or academic, Vita Student is the place to learn, thrive and make connections.
Check out our blogs.
FAQs
Yes, but provided the room is available. You can book the exact room you want when you book directly through our website or speaking to our Lettings Team.

Is there a bike store? Is it included in the fee?

Yes! All of our buildings have bike stores, and they're included in your fee. We also have Vita Student bikes that you can use whenever you want.

Do you offer printing facilities?

Yes, all of our buildings have on-site printing facilities. When you arrive, you will receive an email to set up your printing account – once you have confirmed you can add credit to your account and start printing.

What kitchen appliances are included?

Rooms at Vita Student already include kitchen appliances like a fridge, microwave, oven and hob. Please do not bring any additional appliances when you move in.

Yes – we have a laundry room in the building. When using the laundry rooms, all you need to do is top up your account to start using the machines.

What do I need to bring when I move in?

While Vita Student rooms include all main kitchen appliances and furniture, you'll need to bring your own utensils and kitchenware, kettle and toaster, bedroom furnishings, such as towels, duvets, and pillows. However, if you've booked a room with us you can order one of our Vita Student kitchen and bedding packs, which delivers all the essentials to your room before you arrive.

Is contents insurance included?

Yes, you can get free contents insurance with our partner Endsleigh. When you move in, you will receive an email to confirm your cover.

Is there a car park? Is it included in the fee?

Unfortunately we don't have on-site parking at this building. However, all of our buildings are centrally located, with quick access to university and public transport.

The standard size bed is a double, however you can upgrade your room type and get a king-size bed.

How do I receive mail and packages?

Each resident has their own mailbox. However, any parcels will be delivered to Reception, where our team will securely look after them until you're able to collect them.

What's included at Vita Student Fountainbridge?

Vita Student Fountainbridge is all-in. Free breakfast, utility bills, private bookable spaces, free-to-use bikes, on-site gym, housekeeping, daily events, and much more are all included when you move in.

How close is Vita Student Fountainbridge to university?

Vita Student Fountainbridge is ideally located for the University of Edinburgh. It's only an 18-minute walk to the University of Edinburgh campus and a quick bus journey to Heriot Watt University.

Where's the nearest public transport to Vita Student Fountainbridge?

Vita Student Fountainbridge is just a short walk to Edinburgh Waverley Train Station, and there are a number of bus stops located right outside the building to get you where you need to go.

What shops are close to Vita Student Fountainbridge?

Vita Student Fountainbridge is located in the centre of Edinburgh, meaning that you're on the doorstep of all the city's shops and essentials.