Skincare that's good for you and the planet.
This month, Vita Student are pairing with the award-winning eco beauty brand, UpCircle, to offer an exclusive class on sustainability and skincare for our residents.
UpCircle's story started as many of our mornings do… with coffee. Realising that over 18 million tonnes of coffee grounds are wasted each year, sibling co-founders Anna and Will formulated a plan to repurpose them into a luxurious natural face scrub.
It didn't take long for their concept to take off from there. In April 2016, they launched their first batches of coffee scrub at London Coffee Festival, and it sold out in no time. The 23-year-old entrepreneurs proved so successful that in the same year, their products were retailing at Urban Outfitters and then on the online beauty giant Beauty Bay just a few months later.
As a whole, the beauty and skincare industry continues to be a destructive force when it comes to the climate crisis. Even with consumers crying out for action, big beauty corporations are yet to tackle the many causes of their impact; the harvesting of ingredients, water waste, plastic production and their shipping methods, to name just a few. Alongside this, there is a (very literal) mounting problem in landfill due to single-use beauty products like make-up wipes and sheet masks.
It's difficult for beauty lovers to wade through the cloudiness surrounding sustainable skincare, largely because of a lack of transparency from your dominating players in the game. However, we do know that an estimated 120 billion units of packaging are produced by the beauty industry each year, yet only 9% of that is recycled. Similarly, over a billion tonnes of CO2 are released into the atmosphere as a result of shipping alone.
That's where UpCircle comes in. The crucial difference between them and most well-known brands is that they operate on a "circular" model. Each skincare product saves a natural by-product from other industries that would otherwise have gone to landfills – mainly the food and drinks industry. Coupled with their full range of refillable products, they truly are a circular business. With a business model of reused, repurposed and reloved at their core, they are considered pioneers of the by-product beauty movement.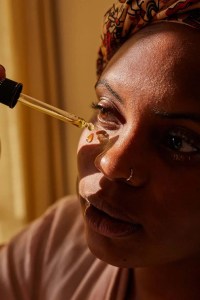 Since its humble UK beginnings in 2016, the brand has expanded both in its global reach and in its product offering. Not only have they given new life to over 350 tonnes of used coffee grounds so far, but they also now repurpose 12 ingredients from juicing to the wood industry for their ever-growing skincare range.
Dara, community manager at UpCircle said: "Over the next few years, we're eager to be able to offer a full skincare line, to cater to whatever skincare concern you may have, so new product development is a huge focus for us.
"We're highly motivated to continue sourcing varied ingredients that are ending up being thrown away prematurely. We're currently experimenting with by-products from the floristry and gin distillery industries. Lots to look forward to!"
As a part of their partnership with Vita Student, UpCircle's co-founder, Anna, will guide our residents through a night-time hydration routine using some of their most popular products:
Mandarin + Chamomile Face Toner with salicylic acid and calming ingredients sourced from the tea and juicing industry
Brightening Eye Cream with repurposed coffee oil and anti-inflammatory maple bark extract, a by-product of the wood industry
Pro-retinol Night Cream with blueberry extract from the juicing industry
Occlusive Face Serum with jojoba, sea buckthorn and coffee oil for glowing skin
Soothing Body Cream made with cold-pressed date seeds – one of many award-winning products
"University is an ever-changing, character-building rollercoaster; it's thrilling but it can be overwhelming," Dara added.
"We're excited about this partnership with Vita Student to pause and take care of ourselves and the planet, without compromise."
Residents who attend the events will also receive 10 samples of UpCircle products such as their ground apricot Cleansing Balm, olive stone Face Mask, and refreshing Body Wash made with lemongrass and kiwi water. They'll also get the opportunity to ask Anna any questions about launching and running a successful international business at the age of 23.