Need some room inspiration? Look no further.
The best part about moving to university? Being able to decorate your room however you want.
Your room reflects you and your personality – and given that students spend an average of 60% of their time in their accommodation, personalising your space and making it comfortable to live in is essential to a positive university experience.
When moving into your accommodation, there might be some rules on how you can decorate your room. However, there are still plenty of ways to #MakeItYours.
At Vita Student, you can easily transform your studio to whatever aesthetic suits you – but if you need some inspiration, look no further.
Houseplant heaven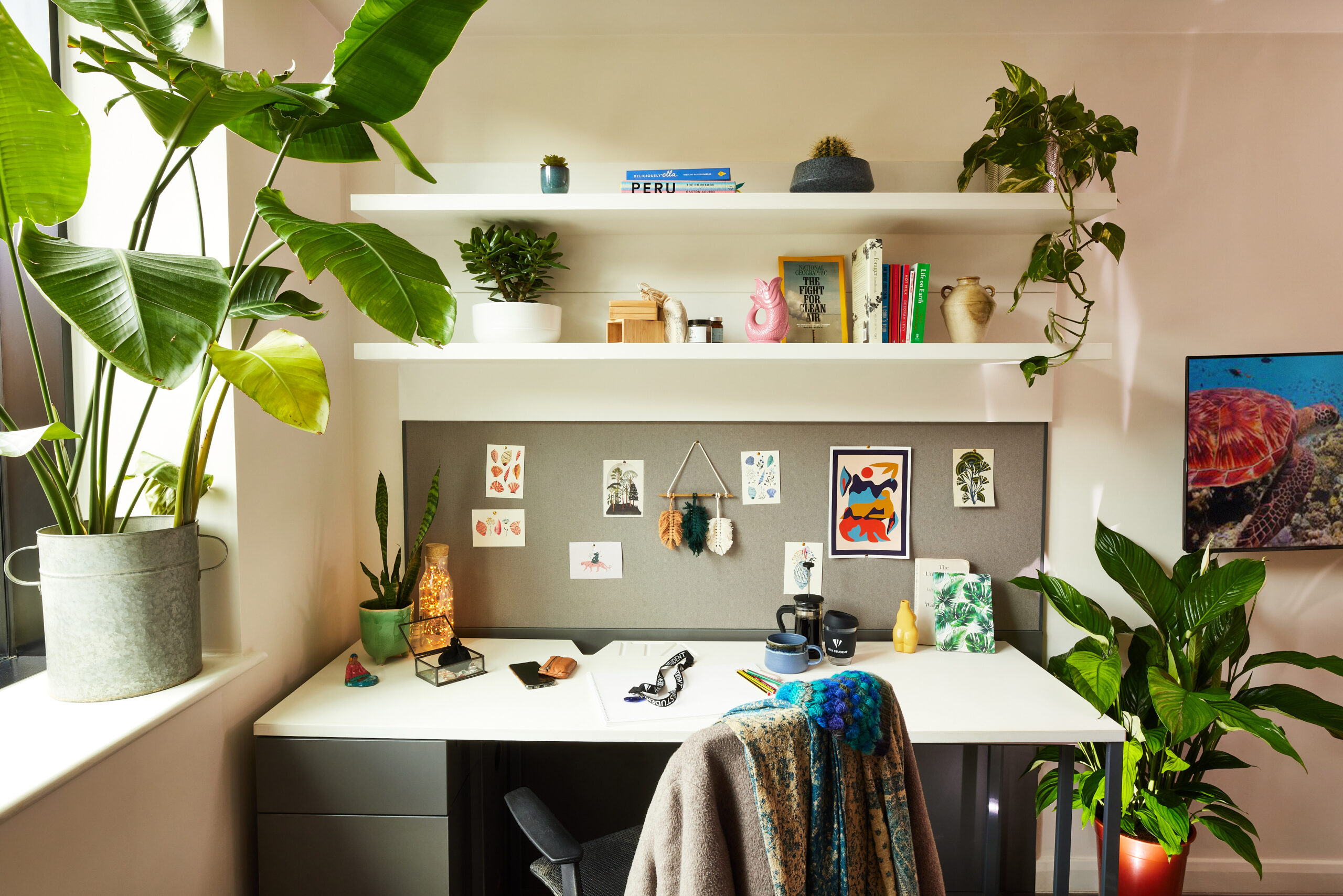 When it comes to houseplants, you simply can't have too many. Turn your bedroom into the ultimate urban jungle by filling it with greenery.
Not only do an abundance of plants look amazing in your room, but research suggests that it can also have a major positive impact on your mood and even your productivity. Like you needed another excuse…
Many Vita Student studios include floor-to-ceiling windows, offering the perfect environment for your plant babies to thrive. Raid your local garden centre and pick up as many hanging plants and succulents as you can, and then share the cuttings with your friends.
Minimal and organised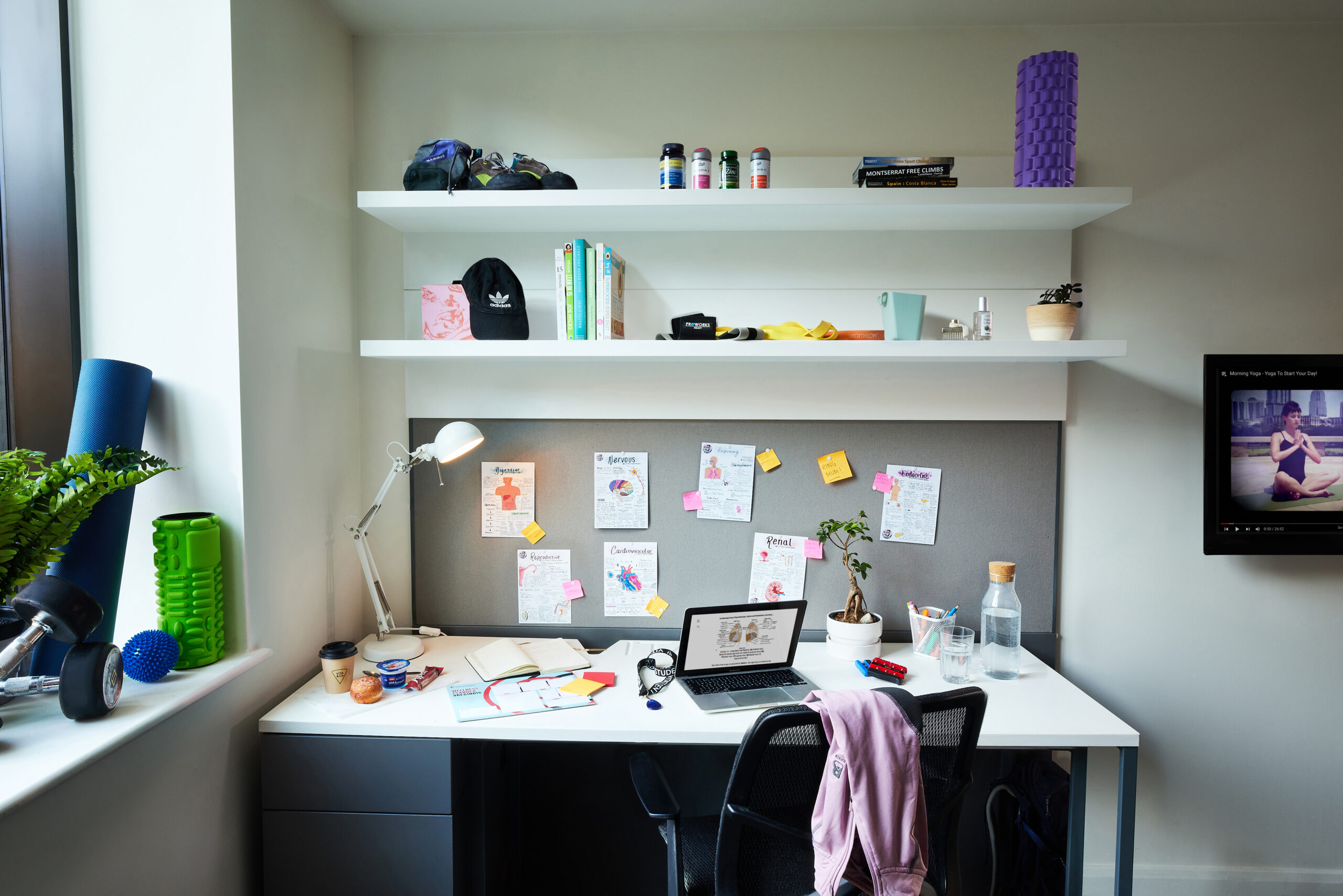 Vita Student is ideal for anybody who loves their space to be clean and organised. Although the interior is already modern and airy, you can keep it feeling fresh by filling it with white plant pots, storage boxes, and kitchenware, while adding pops of colour with bright bedsheets and cushions.
Pin study notes and an academic calendar on your noticeboard to stay on top of your work, and neatly stack up all of your textbooks on shelves. In true Marie Kondo fashion, only hold onto things that serve a purpose and bring you joy – your clutter-free room will allow for a clutter-free mind (no one needs to know about the clutter you have stashed in the wardrobes or under the bed).
For the night-owls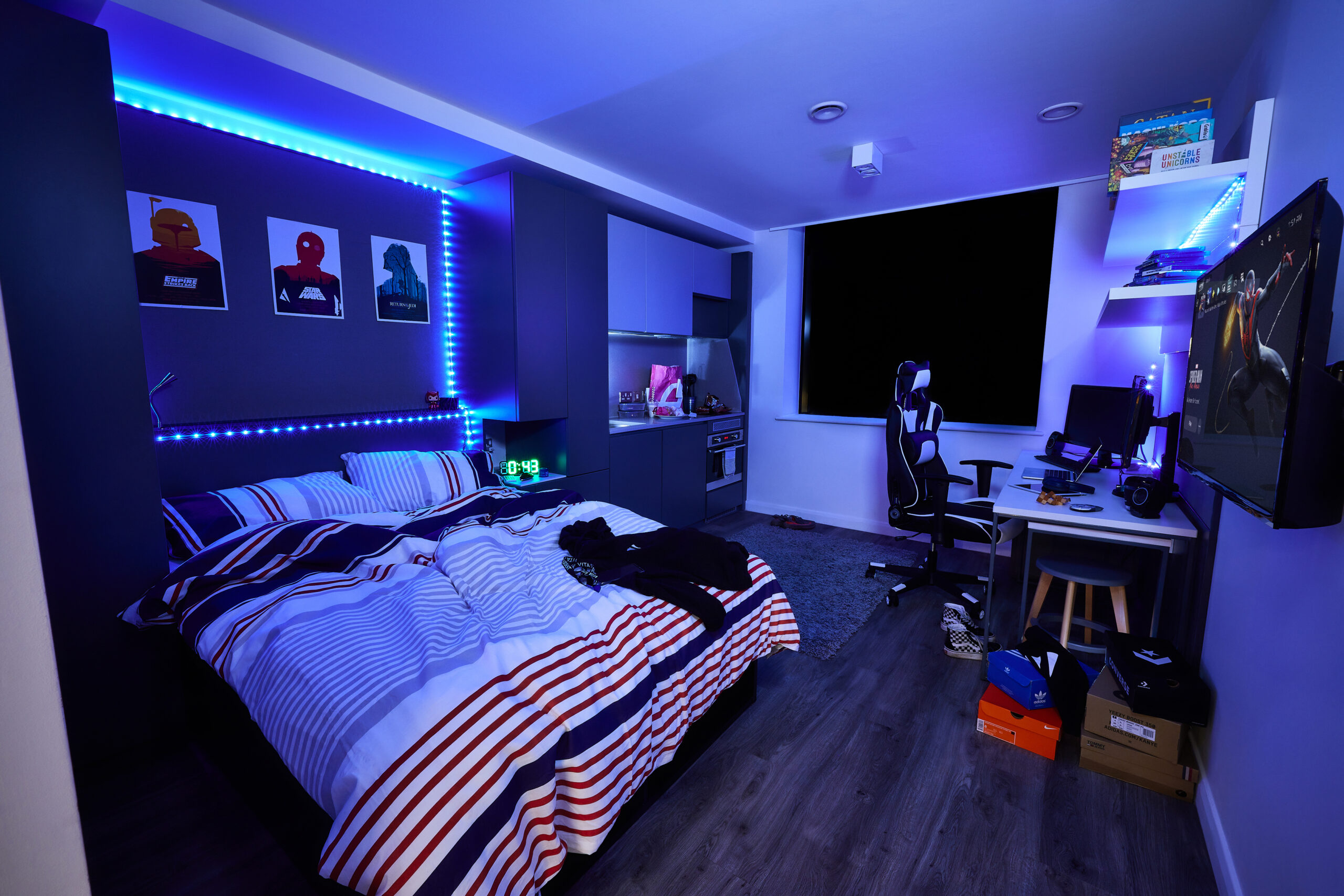 There are two types of people at university; the ones sleep at night, and the ones that don't. If you're the type to pull all-nighters to get your assignments done, or just up until 3am playing your favourite game, then you want to make sure your room is set up to cater to your nocturnal lifestyle.
We think LED strip lights are a great addition to any student pad, especially if you're a night-owl. Simply stick them to a flat surface and instantly transform your room into the perfect cinema or gaming suite. Most LED strips have interchangeable colours too, which will allow you to make your room feel seriously atmospheric.
Just don't forget to buy a bedside alarm clock to ensure you make your morning lectures!
What to do with your walls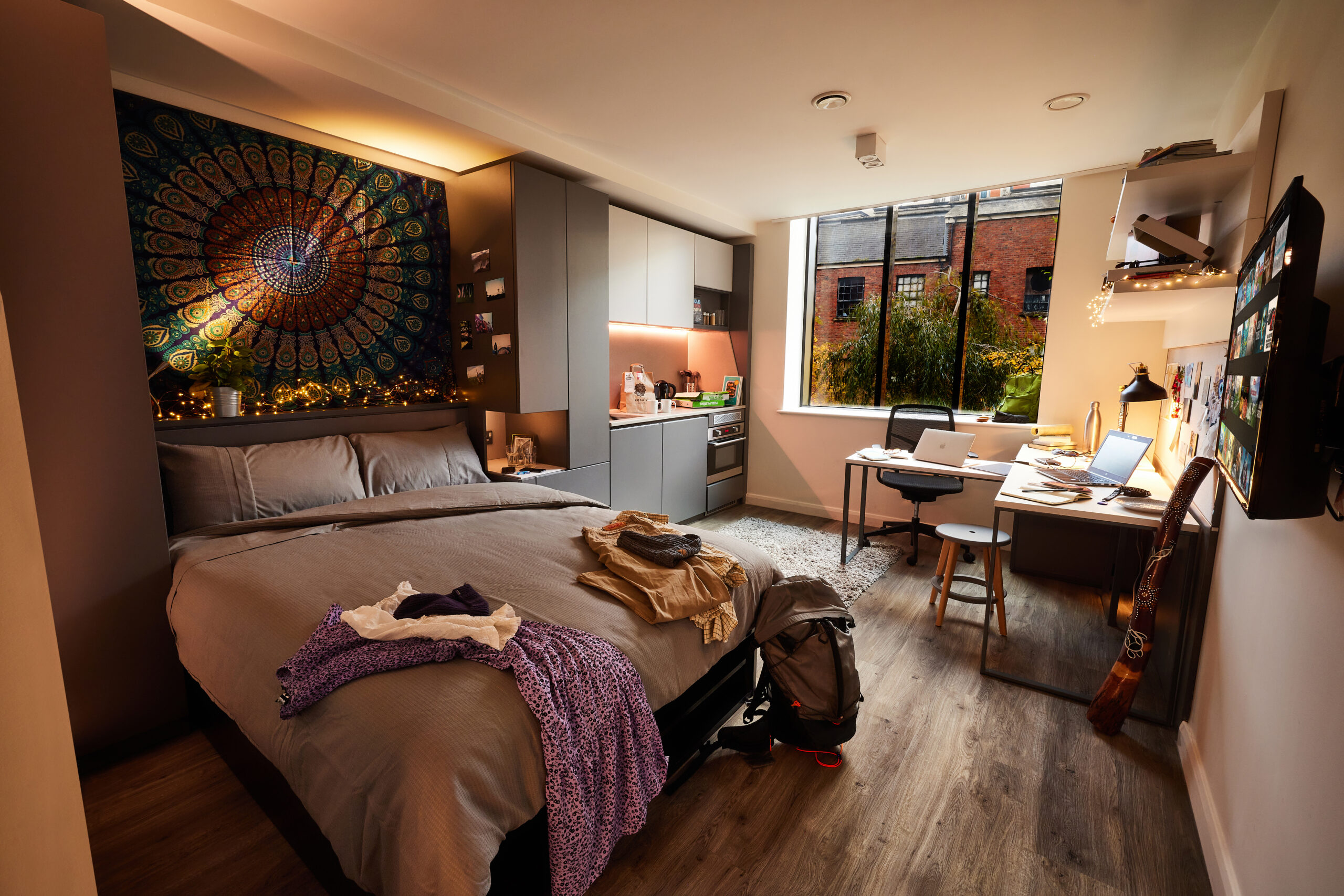 When you move into your student accommodation, you probably won't be allowed to nail frames or photos to your walls. But rest assured, there are still ways to jazz up your room without ruining the paint job.
Wall tapestries are the ultimate student-room staple. They make your room feel snug and are a great way of livening up your walls. There are tonnes of patterns and colours to choose from on, and they're relatively cheap to buy. Just pin it up on your noticeboard or attach it with Command adhesive wall hooks to avoid wall damage.
Pair your wall tapestry with a string of fairy lights, printed polaroids, and a knitted throw, and you'll have the cosiest space to hang out.
Ultra-luxe
Picture this: You come home every day and it feels like you're living in a 5-star hotel.
The key to making your room look as luxurious as our Hub spaces is to keep it minimal, with a few sleek statement pieces. Monochrome colour schemes work well with an occasional splash of deep colour.
Think crisp white bedsheets with a bright faux fur throw, or a clothes rail with a small selection of your fanciest items. Making your room feel luxurious is easier (and cheaper!) than you might expect.
Display your favourite fashion magazines with a mesh rack or even get creative by collaging them across your noticeboard. With your room looking picture-perfect and your ring light at the ready, you're already half-way to being an interior design influencer.
Making it personal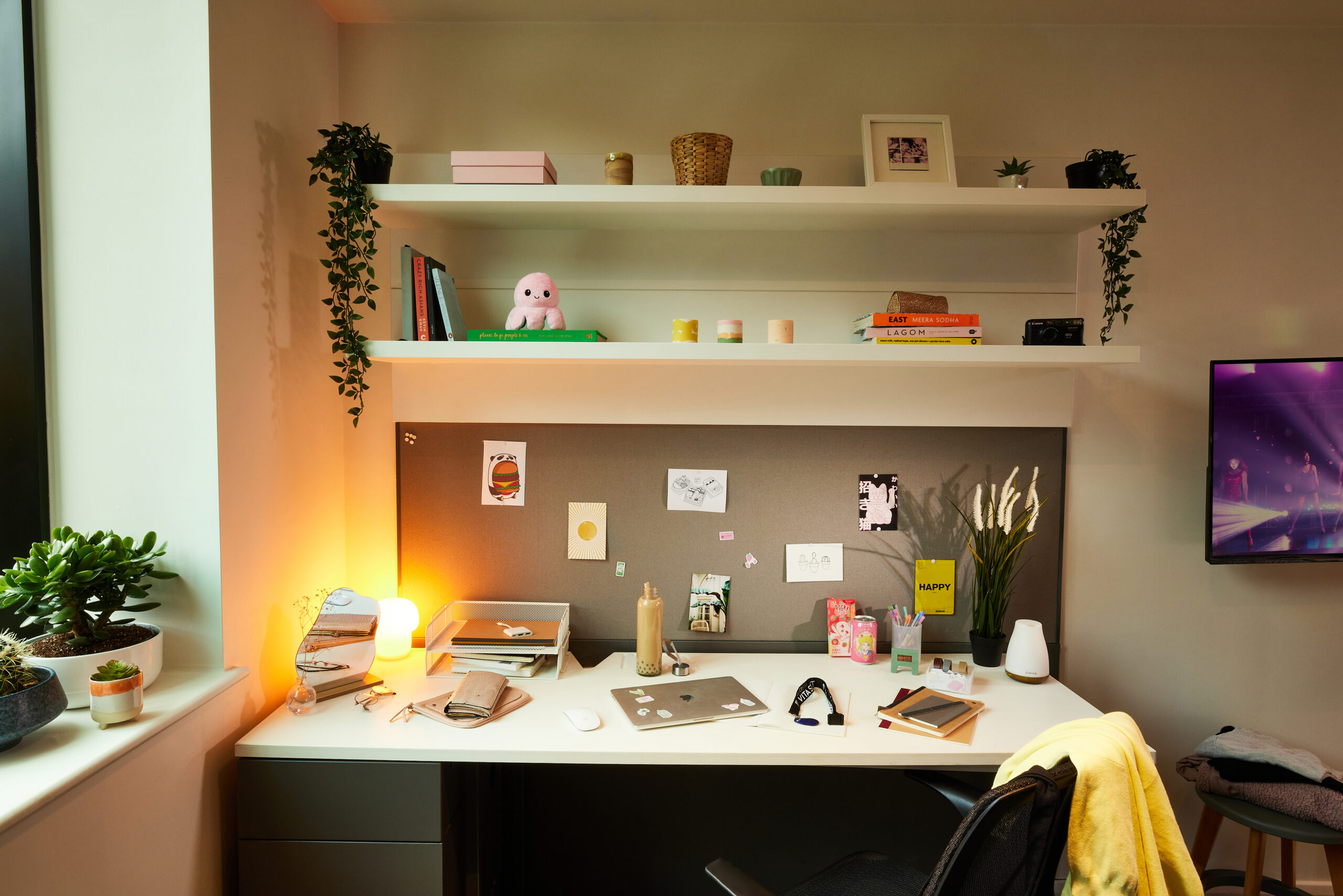 The smallest of details are often what makes your room feel most personal.
Whether you keep cute postcards on your pinboard, your favourite mug on the kitchen counter, or your childhood teddy bear on your bed, surrounding yourself with things that make you feel happy will help you to relax after a long day of studying.
Online marketplaces like Etsy are great for finding really unique pieces of home-wear. There's definitely something for everyone and you'll be supporting independent creators in the process. Or head down to your local charity shop and you might discover a one-of-a-kind item that's good for your purse and the planet.
Our best advice would be to have fun decorating your room – your style may not be to everybody's taste but embrace it! For now, head to our TikTok to see more regular tips on decorating your studio.