If you missed out on our first cooking event of 22/23, yhangry have got you covered.
Each week, Vita Student residents get to take part in a private cooking class, courtesy of our exclusive event partner, yhangry. Learning a new dish every week, 22/23 kicked off with some delicious Hawaiian Poké Bowls.
Whether you missed the chance to take part, or you can't stop thinking about this meal after attending, yhangry have shared their recipe to make sure you enjoy this dish over and over again.
Poké Bowl recipe
Poké is a traditional Hawaiian dish. It usually consists of marinated raw fish with white rice, but you can mix it up with anything you like. Think of it as deconstructed sushi that's way easier to prepare.
This simple recipe is quick and healthy and a great way to pack in your 5-a-day in one punch. There are so many different ingredients, meaning you get lots of variety and it will never feel stodgy.
First things first, how do you pronounce Poké? Let's make sure we're all on the same page here – for poké it's 'poh-kay' as two syllables.
And now we can tell our friends about what we're making, let's show you how to make it in a few easy steps.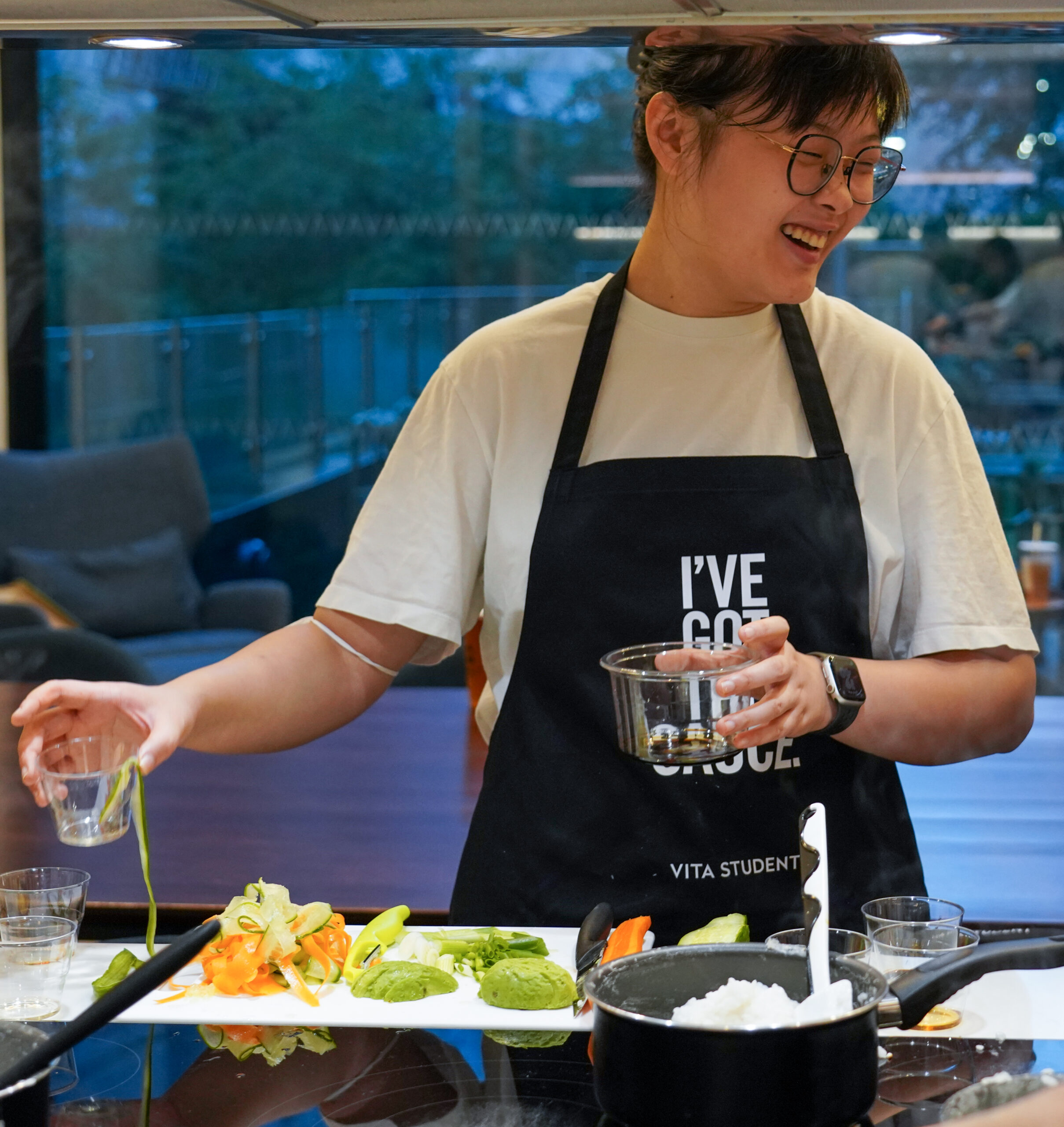 What you'll need
Protein
Let's pick our protein. This recipe lets you swap out your main protein between tofu, chicken or salmon. If you're going for tofu, cube it and pat it dry with kitchen paper. If you're going for salmon, make sure it's sushi-grade salmon with a great texture.
Ingredients
Once you know how to make a Poké Bowl, feel free to change your ingredients around and mix it up. Be playful – there are no rules. What we love about Poké Bowls is that you can customise it – even the smallest tweak can change it completely, so you don't ever get bored of it.
Tofu/chicken/salmon
Rice
Soy sauce
Rice vinegar
Sesame seeds
Honey
Sriracha
Mayonnaise
Cucumber
Edamame
Carrot
Avocado
Spring onion
What do I need to have in my cupboard?
You barely need any equipment for this recipe and that's why we love it. Make and prepare it almost anywhere. You'll need:
x1 knife
x2 chopping boards
x2 mixing bowls
x1 pan for rice
x1 frying pan only if you are using chicken or tofu
Put it together
1. Dice your tofu, chicken or salmon
2. Get a medium bowl and mix together soy sauce, sesame oil, rice vinegar, and honey.
3. Put your diced protein of choice and leave to marinate in the mix for 15 minutes.
4. Take a small bowl and mix sriracha, mayo and a tiny bit of salt and pepper. Spoon it into a zip lock bag and cut off a corner so it has a small 2mm hole in it.
5. Cook some rice – 1 part rice to 2 parts water for 10 minutes and leave to sit for 5 minutes for fluffy rice. Microwaved rice is fine but not as fluffy or tasty.
6. If you are doing chicken or tofu, fry these off in a pan with a little oil and salt for 7 minutes.
7. Chop up your cucumber, edamame, carrot, avocado and spring onion.
8. Assemble everything together in the bowl – tofu/chicken/salmon, rice, cucumber, edamame, carrot and avocado. Squeeze your sriracha mayo mix across the top in a zigzag and sprinkle the spring onion and sesame seeds.
And there you have it.
Best way to eat it? Chopsticks! Serve it in one big bowl. It means it's great for eating anytime, anywhere. You can easily put it in a takeaway container and eat it in your lectures.
Photographing your Poké? It's all about how you layer it. Instead of putting each layer directly on top of the next, squish them all together side to side. You'll get to see each bold colour of each ingredient contrast with the next. Stand above your table and point the camera down to get a bird's eye shot from above.
We would love to see your photos! Tag us @yhangry on Instagram or TikTok.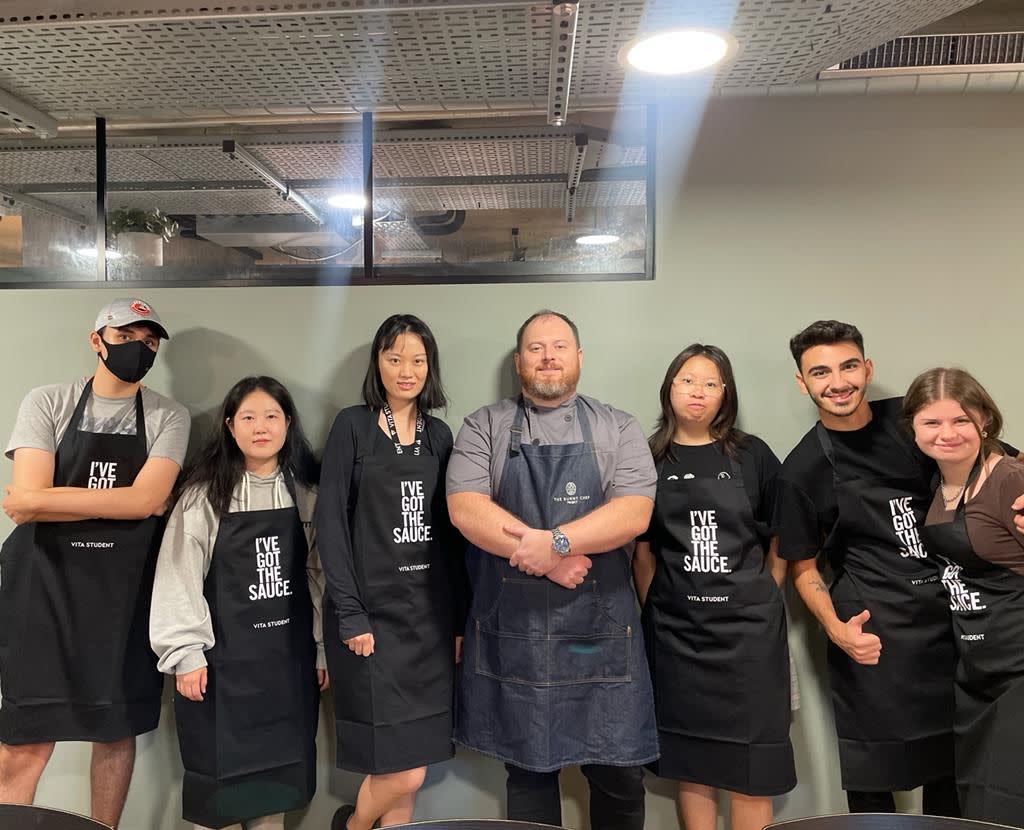 How long will it last? It's best eaten as fresh as possible. You can prep it the night before and take it into the library for lunchtime the next day. But – especially if you choose the fish option – try to keep it as cold as possible. Pop an ice pack or frozen water bottle in your bag with it.
Top tip? Meal swap! It's easy to do all the prep in one go. Make it for your friends and alternate making dinners for each other. If there are 3 of you, you'll only need to make dinner and do the washing up twice a week. Heaven.
Who we are… Yhangry is a private chef company. We bring the shopping, cook up a feast and clean up in the kitchen, so you can enjoy a fabulous time with your loved ones. Check out our Dragon's Den episode here.
Keep an eye out for more recipes from us. We'll drop a new recipe every time there's a new class. Don't fancy doing the cooking for a night? Check out our website here, great for birthdays, date nights and having your meal prep done for the week.