Make moving in easy with these four simple steps.
Vita Student class of 2023/24. Your new life is about to begin and it's time to get ready.
If you're joining us for the first time this September, you've made a good call. Vita Student are ANUK accredited, meaning that we're a part of a scheme that ensures the highest standards of service for students.
Before your first day in the building, there are a few things you need to have sorted. This blog is going to give you all the information you need to move into your Vita Student accommodation and give you a sneak peek of all the exciting things to expect during your 22/23 stay.
For Vita Students heading to our Barcelona residence, find out everything you need to know here.
Vita Students moving into a UK building, keep reading. This one is for you.
Four simple steps to move into Vita Student

It's the summer before you go to university, so you sure as hell want to enjoy it. You should be spending more time with your friends and family, and less time stressing about preparations.
That's why we have broken down the process of moving to Vita Student into four simple steps. You'll need to complete all of these to ensure you're set for 23/24.
Firstly, you will need to complete your payment via your Vita Student account, using our secure payment portal TransferMate.
TransferMate has promised to plant a tree for every payment made. So not only will you be saving money on banking fees and foreign exchange commissions, but you'll also be helping to save the planet too.
Once you have completed your payment, you can then check-in online. It's really easy to do. Just log into your account at vitastudent.com, and follow the steps to check-in.
Step 1: Let us know what time you plan to arrive by booking a move-in appointment
Step 2: Complete your online check-in form
Even if you've already lived at Vita Student previously, you will still need to check in online for 2023/24.
If you lived with us for 22/23, and there is a gap between your 2 bookings, you will still need to book your move-in appointment to let us know when you will be returning. If there is no gap between your contracts, your "move-in date" will be automatically set as the first day of your contract, but you still need to complete your online check-in form.
Next, it's time for your final preparations.
In need of some home essentials?
Introducing our bespoke, affordable bundles to style your bed, kitchen, bathroom and more.
Pre-order before September and everything will be waiting in your room when you arrive. No excessive luggage or heading to the shops, so you can start living your best student life from day one.
Remember bedding isn't included, so as a minimum we'd recommend ordering a bedding pack before you arrive. (In Manchester Circle Square Deluxe or Ultimate room types? A full bedding pack is included in your room).
Order yours here now.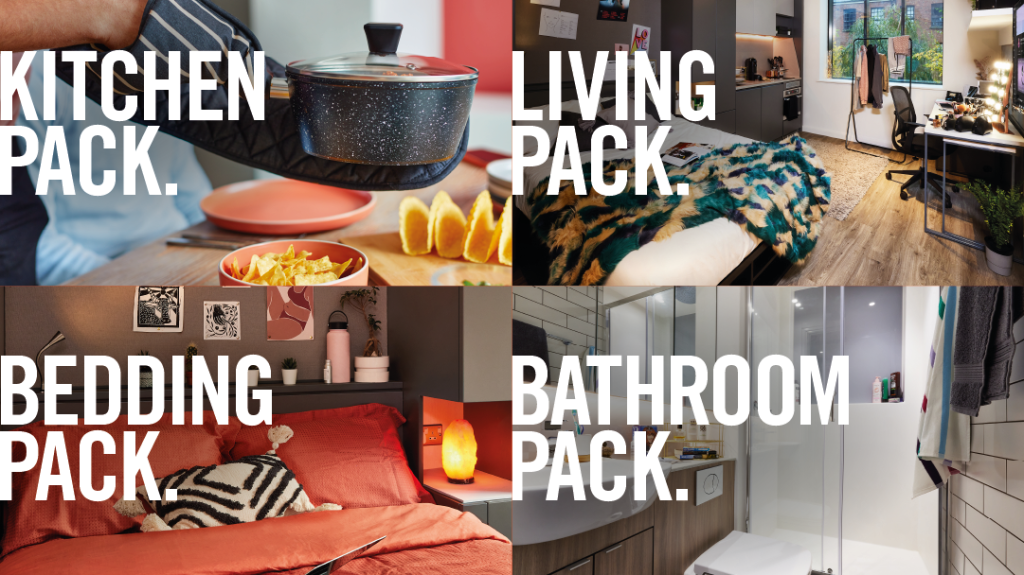 contents insurance
Contents insurance is included in your rent, through our insurance partner Endsleigh.
However, before you arrive you must remember to activate your insurance. To do this, simply download the Endsleigh App and confirm your cover.
You may have some higher-value items that aren't included in your policy – so it's important to check as you may need some additional cover. When you download the app, you can check what's included, and see if you need to do anything else.
Once you've downloaded the App and activated your account, you can access all their well-being resources to help you through your first year at uni. Plus, you could be in with a chance of winning £100 a week for the entire year!
It takes less than five minutes to confirm your insurance. If you ask us, taking the time to ensure your belongings are protected is a no-brainer.
Download the Endsleigh App to confirm your cover.
coming up this September
You've done everything you need to prepare, now all that's left is to get excited.
Expect unforgettable experiences. Exclusive discounts with the best brands. Daily events like craft workshops, cooking classes with a private chef, PT sessions and VIP treatment from the biggest brands. Career-boosting sessions with guest speakers and networking events with industry leaders. Showstopping headline parties throughout the year.
In just a matter of weeks, this will be your life.
follow. tag. share. win
Our Vita Student community starts with you, so be part of it. Join our community on TikTok, Instagram and Twitter, and be in the loop about all our exclusive events and competitions.
Want to be in with the chance of winning a luxury prize on move-in day?
Follow us @vitastudent on Instagram & TikTok.
Post photos and videos of your journey to Vita Student and tag @vitastudent.
We'll DM you if you've won a luxury prize.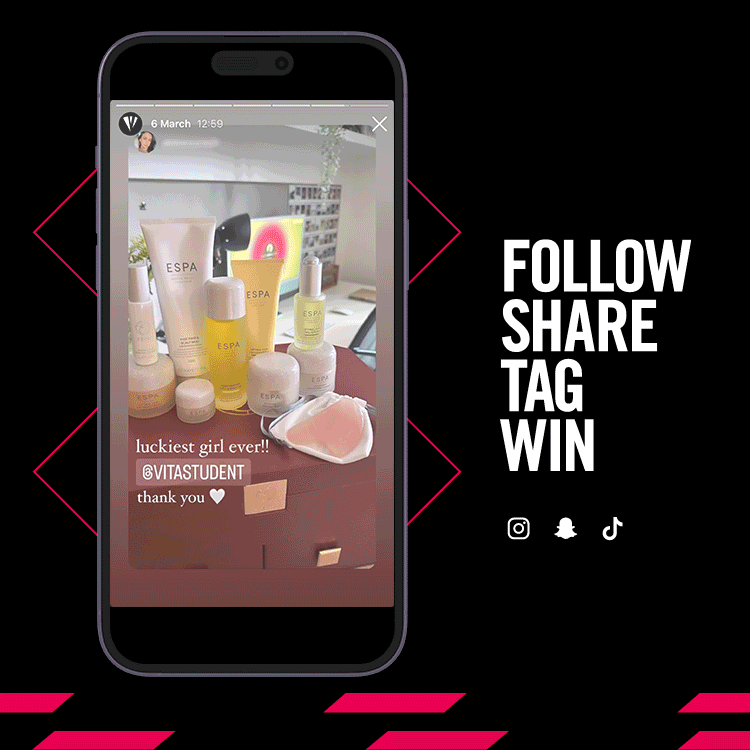 your first day
The big day is here. You're all packed and just moments from moving in.
We know many of you will be travelling far and wide to stay with us, so we're here to make your move in simple and stress-free.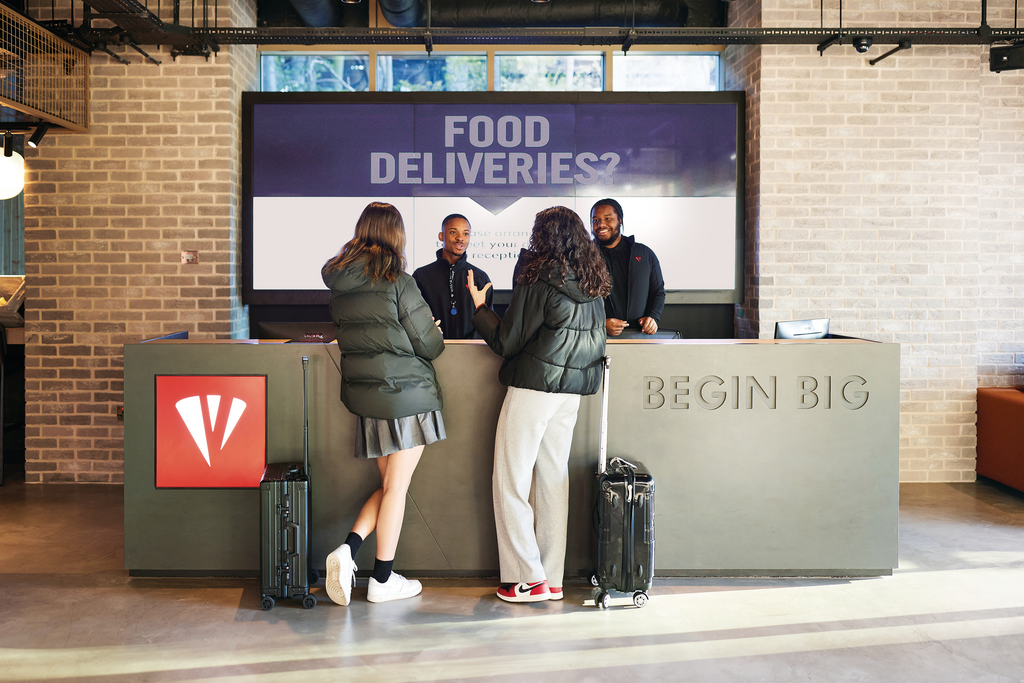 We will be hosting building inductions in the first week to help you find your feet, and of course, some unmissable intro events to get you acquainted with your neighbours and residence team.
Want to know how things work once you're actually inside the building? Check out our blog Settling In Simplified . Read it here.
Class of 23/24, it's time to Begin Big.