A read to tickle your taste buds.
One of the best things about life in London is the chance to get your hands on food from around the world without ever setting foot outside of the city limits. To whet your appetites ahead of the opening of our new Lewisham Exchange building in September 2021, we've compiled a list of some of the best restaurants in London that'll sate any cravings imaginable.
So get ready to get hungry, and let us take you on a culinary cruise across the streets of the capital. Starting with breakfast, of course!
Where to eat in London – finding a fry up with a difference
All of our Vita Student buildings offer grab and go breakfasts as standard, which will get you out of the door without getting you out of your groove. But what if you're looking for something a little more decadent?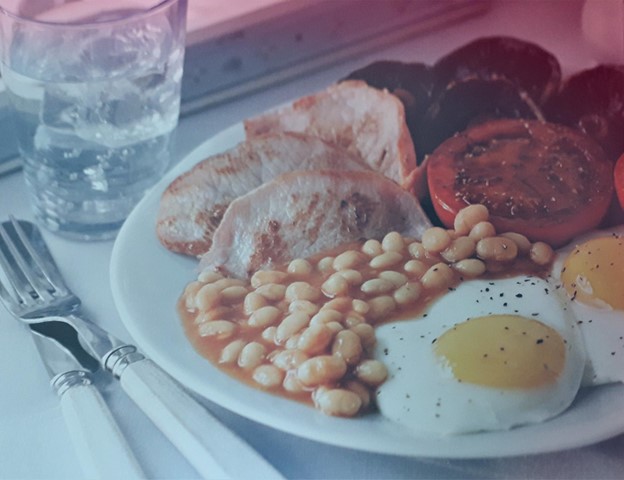 Whether you need fuel for that hectic exam-season morning, or if you're hankering for an unbeatable hangover cure, a good hearty breakfast is the order of the day. And when you're a London local, you can't get better than a traditional fry up. Slightly greasy, carb-filled, and undeniably delicious, a Full English always hits the spot. And one of the best places to eat in London is The Regency Café in Westminster, established in 1946, to get your bacon, egg and black pudding fix.
If you're on the hunt for something healthier, London has you covered. We love eating clean with a smoothie bowl and red velvet latte combo from Palm Vaults in Hackney. Their menu is fully vegetarian, and they'll happily adapt meals to be gluten free or vegan if you ask. With every menu item both ludicrously tasty and insta-worthy, this really is a must-hit breakfast destination.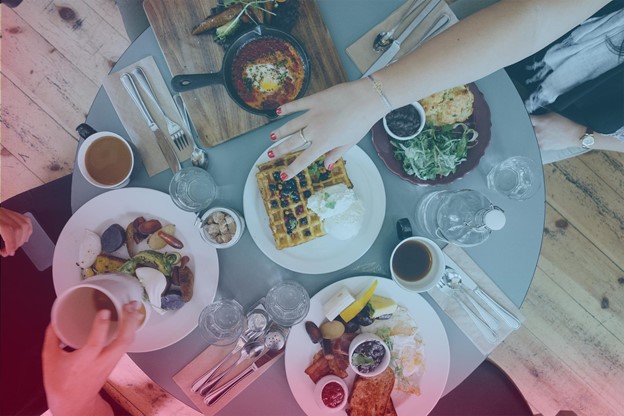 Brunch. More than just smashed avocados on toast.
Breakfast might be the most important meal of the day, but we think brunch is the most interesting. It's an in-between kind of meal with loads of scope to explore new cuisines. And of course, we love that it's completely acceptable to start brunch with champagne!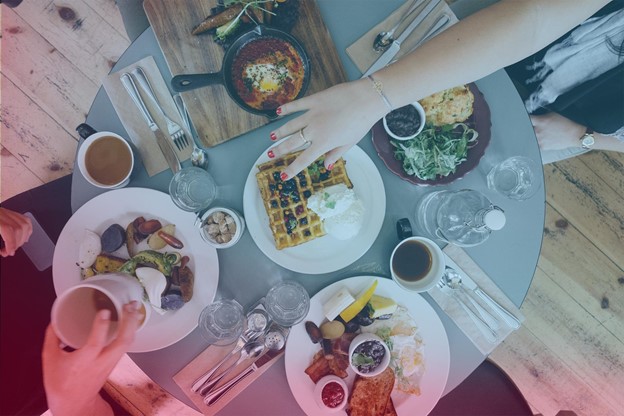 One of the best hidden brunch gems in the city centre is Palaette. Buried down a side street in Hackney, this boutique spot ticks everything on your brunch list, with incomparable cocktails, exquisite food, and a kitschy atmosphere that makes every meal into an occasion.
For those busy city mornings, brunch is also the perfect time to get the sugar injection you'll need to keep you fired up all day. Rising to meet that need are no fewer than 18 Caffe Concerto branches, offering some of the finest Italian sweet treats we've ever tasted. The perfect spot for a prosecco brunch, or even a traditional English cream tea. Think pastries, scones, jam, tea, and delectably tiny cakes. Yum.
Finding lunch in London is a chore no more!
Because the city is so saturated with diversity, London locals are fuelled by fusion food. Lunch is the perfect opportunity to explore all the blended cultures the city boasts. And what could be a better vehicle for fantastic fusion food than the humble pancake? Panc in Covent Garden serves pancakes stuffed and topped with delicious world-cuisine inspired fillings. Sweet or savoury, with a nod to everything from South American to Russian cultures, this is a spot you won't want to miss!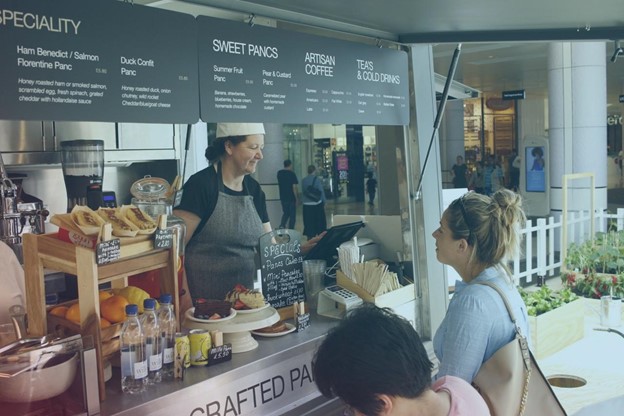 Locals love lunch on the go from
One of our all-time favourite spots for lunch is Heist Bank– an open-all-day venue, serving up some of the best wood-fired pizzas in the city. It's the place to go for cocktails, craft beer, cracking coffee, and a laid-back vibe that makes it the home of students the city over.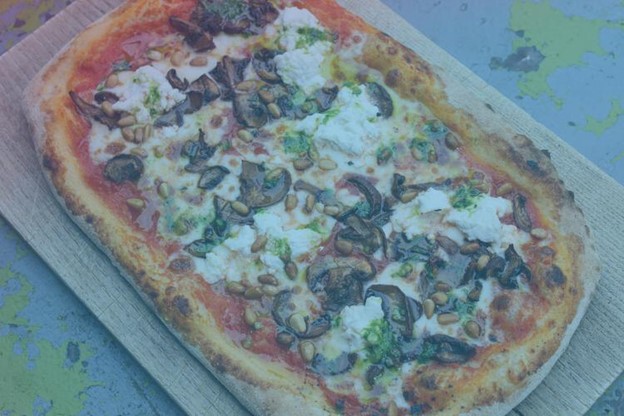 Great food or great views? For dinner in London, there's no need to pick just one.
Restaurants across the city take advantage of the beautiful London skyline by giving rooftop dining experiences you won't forget. We particularly love Radio Rooftop, and Madison Restaurant – where you can enjoy beautiful food alongside breathtaking city views.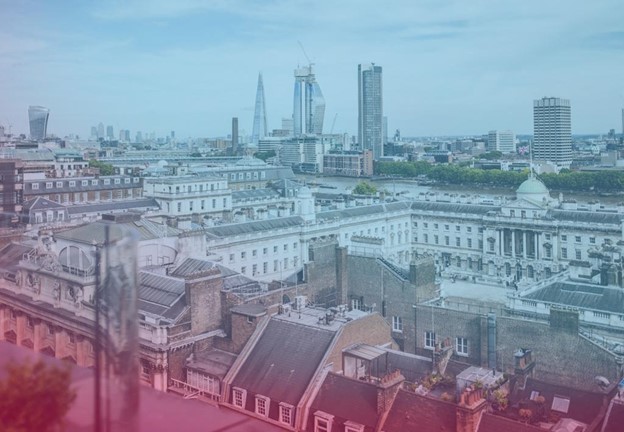 The Southbank is another foodie hotspot you should definitely visit for dinner in London. It lies just 24 minutes from Vita Student Lewisham and boasts plenty of places with rooftop dining rooms to give you riverside vistas that'll knock your socks off. You'll easily find tables for two or tables for ten, so whether it's candle-lit intimacy or bottle-popping fun you're looking for, the Southbank provides it in style.
Feel like splashing out?
Across London, there are an incredible 66 Michelin-starred restaurants. Whether you're on the lookout for traditional French fine dining or groundbreaking fusion food, London has it all. You can even get the Michelin star experience without breaking the bank, if you know where to look! Casa Fofo in Hackney is a 2021 addition to the Michelin club, and with a full tasting menu on offer at a very tasty £45, we can't recommend it enough.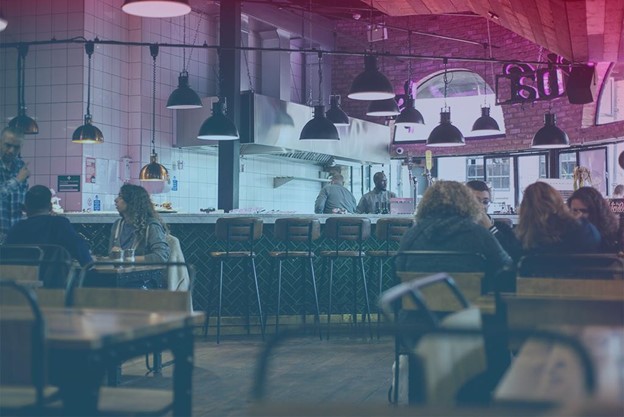 If, somehow, you're still wondering whether that old stereotype of British food as bland and boring is true, places like Romulo Café and Restaurant are here to set the record straight. They're bringing the naturally mashed-up culinary culture of the Philippines to the heart of Kensington, which is complemented by a warm and inviting family-run feel.
Looking for wallet-friendly food in London?
It's not just about high-end fancy food – London has plenty of deliciousness on offer at a much more modest price too. McGettigan's in Fulham is a favourite sports spot for locals, with unbeatable, and traditionally British, fish and chips served.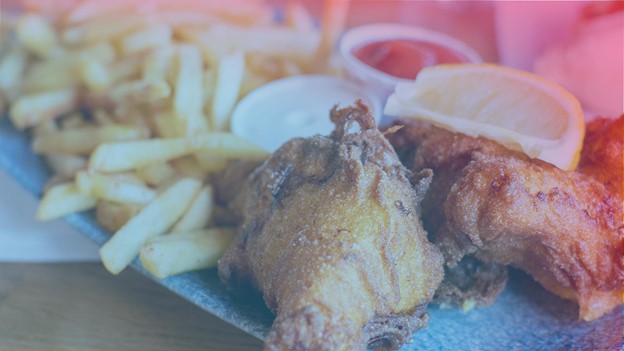 Or you can hightail it over to Highgate for some of the best burgers around. The Bull has a cosy and welcoming atmosphere, teamed up with a fantastic selection of real ales and a hefty dollop of English charm.
Drinks out in London mean more than just peanuts at the bar!
Head up to Sky Garden to check out London's highest public garden! You can score some top-class cocktails alongside a delectable selection of charcuteries and delicious snacks. We seriously recommend the toffee martini, and dare you to try and just have one!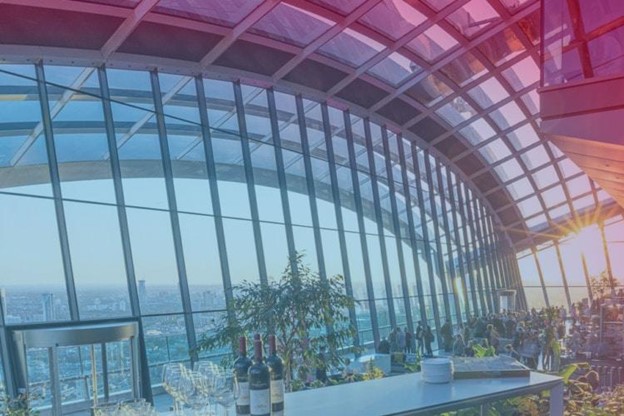 Or you can elevate your evening with a visit to Jin Bo Law – a bar set into the 14th storey of the Dorsett City Hotel. They have spectacular views of the city skyline, carefully crafted culture fusion drinks and a whiskey selection that'll blow any connoisseur's mind.
The Aviary, situated on the 10th floor of the beautiful Montcalm Royal London House Hotel, also offers dinner and drinks with spectacular views of London – all from the comfort of your very own igloo! Firm favourites on the cocktail menu are the Bumblebee and the Flamingo Riff.
Satisfy your sweet tooth with desserts in London
And last, but certainly not least, there are all the wonderful places across London where you can grab yourself a delicious dessert to round off your day.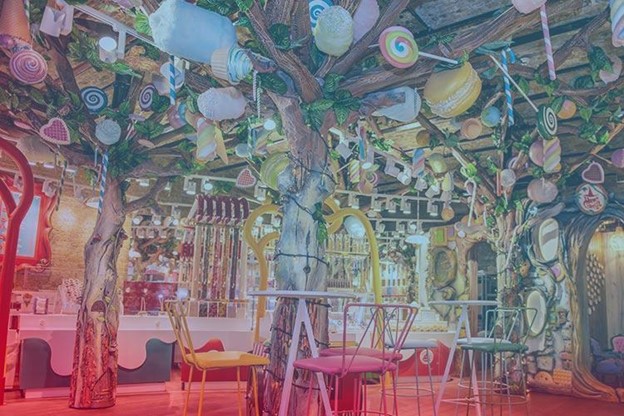 Image courtesy of: https://www.hot-dinners.com/201911089026/Gastroblog/Latest-news/dessert-parlour-hans-and-gretel-has-opened-in-camden-market
Hans & Gretel is a grown-up playground in the middle of Camden market – where you can get your hands on cakes, waffles, doughnuts, cotton candy, and outrageously delicious artisanal gelato. Or why not head over to Cake & Bubbles in leafy Mayfair for a glass of champagne and some sweet treats from award-winning pastry chefs – best enjoyed from the Cake & Bubbles terrace, where you can watch the world go by as you indulge your sweet tooth.
Whatever it is you're craving, you can always get your hands on it in London
Have you ever absolutely needed a fully-loaded Belgian waffle at 2 o'clock in the morning? Had an unquenchable craving for breakfast tacos first thing on a Monday? Felt the overwhelming need for a midnight fry up? The wonderful thing about living in London is that the city never closes. There's a vast array of cafés, bars, restaurants, pop-ups and takeaways across the city, and someone's door is always open. No matter what you're looking for, with London on your doorstep you'll always be able to find it.
Wondering what else is on the doorstep of Vita Student
Lewisham?
Now you've got the low-down on the best restaurant spots in London, it's time to look a little closer at our new Vita Student building. We've compiled a handy guide that will show you what there is to do within 15 minutes of our Lewisham Exchange building. Give it a read, and don't forget to keep your eyes peeled for our next London-centric article, which will show you the best way to capture the true beauty of this wonderful city.