"You alright?"
"You Okay?"
"Hiya there mate!"
These are just some phrases I never heard before I moved from India to the UK to pursue my studies. In this article, I will take you on a comprehensive journey, from the initial preparations to settling in and finding my place in this new country. Join me as I recount the joys, challenges, and valuable lessons I learned along the way.
Allow me to introduce myself. I am Jnnat Khan, currently pursuing Sports Journalism in the UK. When I first made the decision to study abroad, the UK stood out to me due to its renowned universities, multicultural environment, and vast global opportunities. Hailing from Mumbai, India, studying in the UK presented an ideal chance for me to broaden my horizons and gain a world-class education. I moved to the UK almost 10 months ago with dreams as high as the sky and the ambition to always keep moving forward no matter what!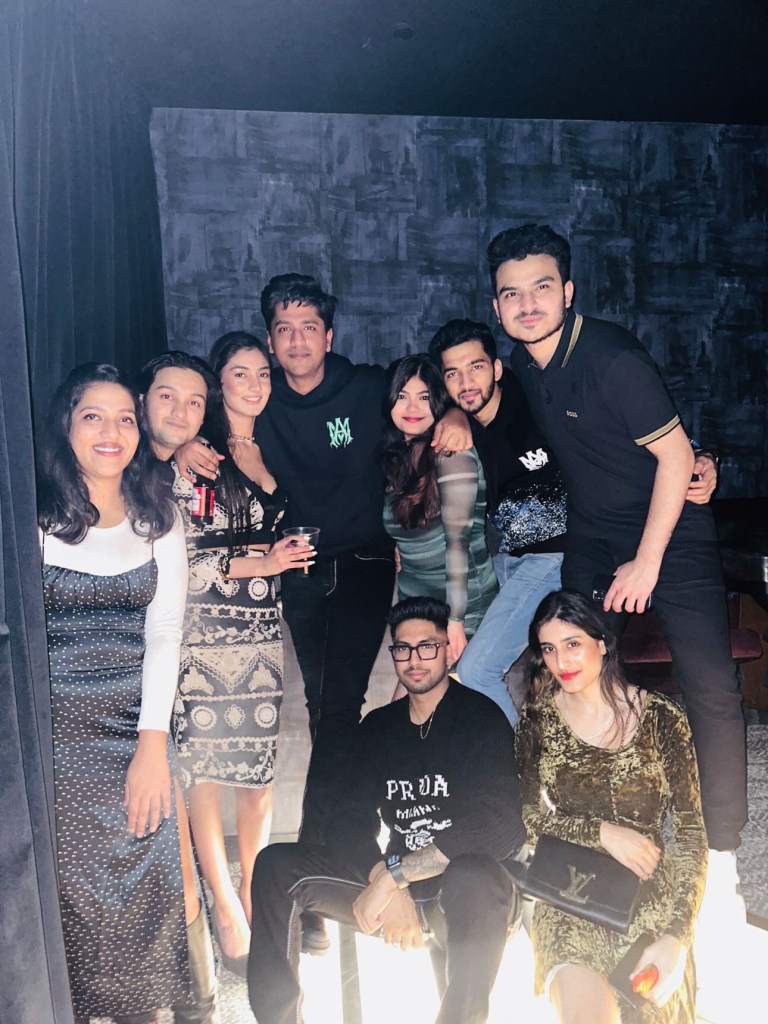 Preparing to move to another country for university can be an exhilarating yet daunting experience. The journey begins with the essential task of figuring out which university or course is best for your future, and then comes some cost planning, loans etc… Finally comes the crucial requirement of a student visa for international students like me. Essentially, not one of the parts I want to relive, but saying goodbye to my family was the hardest out of all these strenuous procedures. Navigating through these different and complex tasks can be irritable but since I've been there and done that, you can find all the answers to your questions here!
Preparing to move to another country is always fun but also very emotional. In times like these, you want to have a strong head on your shoulders. Personally, I've always found it very exciting to travel and explore new places, but I can confirm that moving to a different country alone is not an easy task in itself. Choosing a place to live outside of my country was a long process and I made my decision to move to Leeds with loads of research and understanding what my needs were when moving to a new city.
I had been to the UK before on a family trip and I already adored the place, so I knew what I wanted. I just needed to be more specific. I picked out the best universities for my course and my grades and according to me the UK is a student-friendly country with enormous job opportunities for international students and has a big population of Indians. So, this was my best option! I also kept in mind the benefits like easy access to healthcare, highly rated universities, budget-friendly accommodation and so many cultures that could be explored in one place.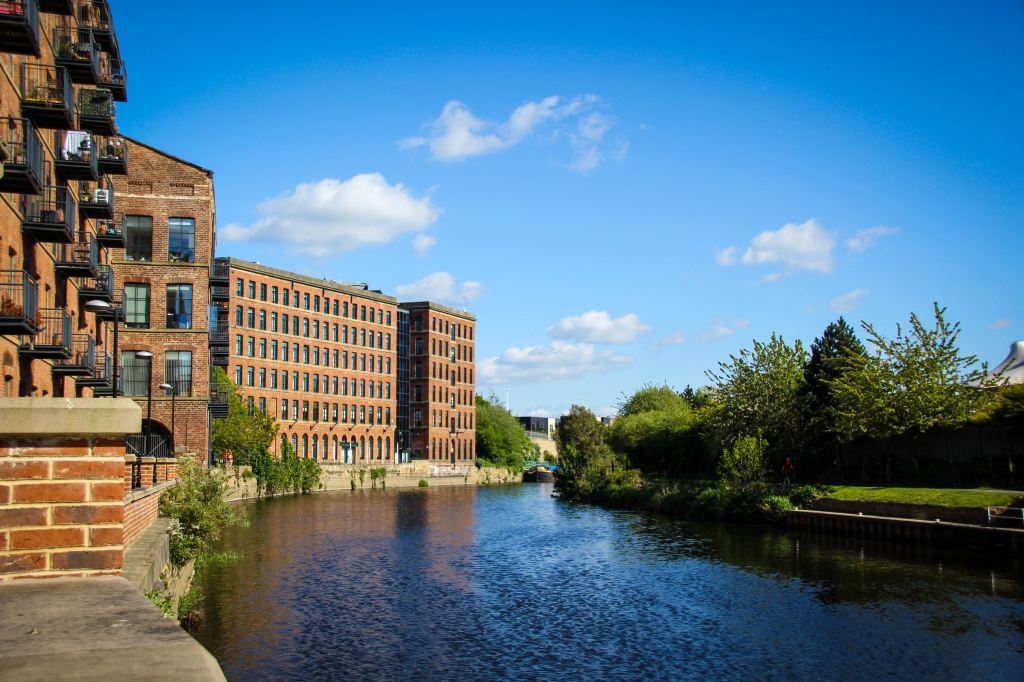 Once I secured my spot at Leeds Trinity University, my next task was to apply for a student visa. This was one of the easiest parts of my journey since I applied online where there was loads of information available for students to read about. I quickly filed all my important documents and within a few days, I had my visa in hand. It could be a stressful process for international students since there are a lot of different factors to keep in mind such as the NHS fee, flight tickets, funding documents and much more but trust me there is all the help you need available through the university's student support teams, and they will guide you throughout.
Read more about how to choose the right university degree here.
Another crucial aspect of moving abroad was choosing the right student accommodation for my best comfort. After watching some videos online and reading many reviews and recommendations from my seniors, I chose Vita Student. After thorough research, I opted for the St. Albans building because of the vibrant community, excellent facilities, and proximity to the university. The Vita Student team provided valuable assistance throughout the process, making the transition smoother. I also received a whopping GBP 250 discount since my friend and I decided to book rooms together!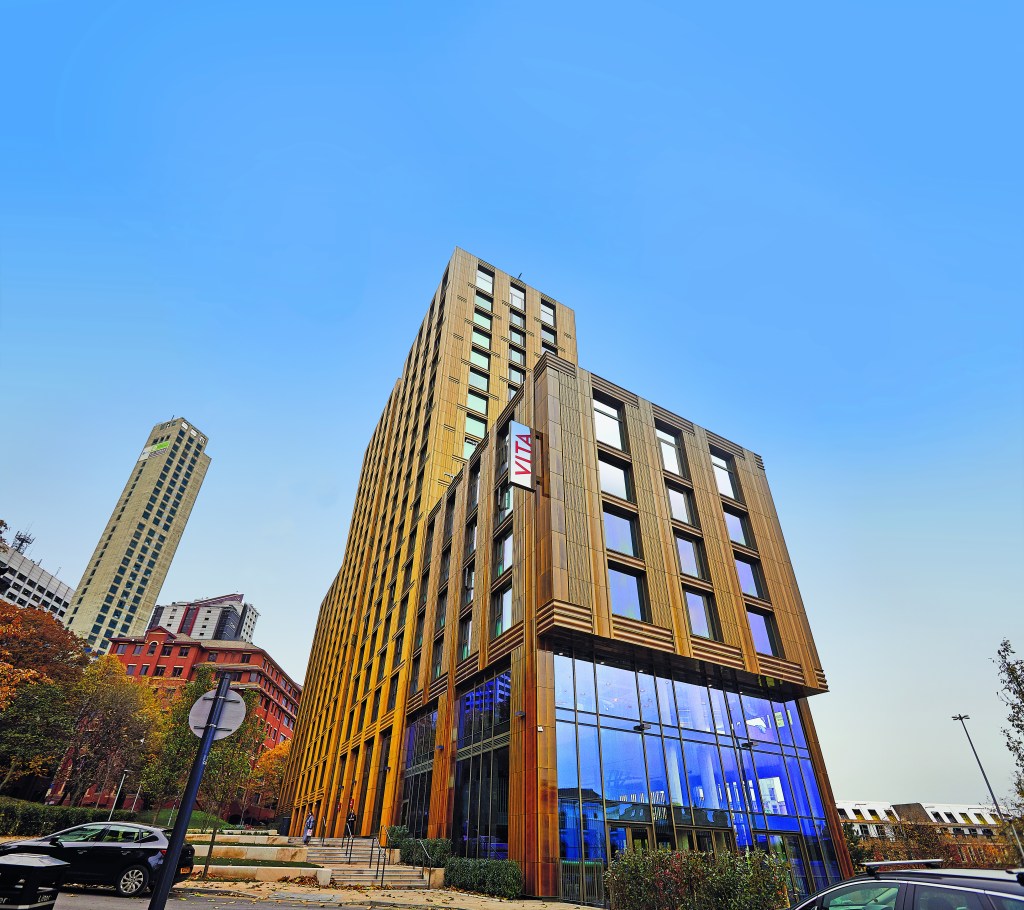 packing for uni
I loved packing for university and organising my items the way I like them. It was confusing to understand what to pack and what not to pack but my mother helped me make many decisions clearly. I am Indian, and we Indians never forget our spices and food. So, the first thing I packed in my suitcase was some essential masalas for me to cook with and feel at home away from home. Next, keeping in mind the weather conditions, I took all suitable winter wear for the cold months of the year. Top tip: don't forget to carry some warm shawls and gloves. Then I went ahead and packed some essentials for university like my books, stationery, and electronics.
arrival
Stepping foot in the UK marked the beginning of an exhilarating new chapter in my life. I vividly remember the mix of excitement and apprehension as I embarked on this journey. Saying goodbye to my family and familiar surroundings was undoubtedly challenging, but it also fuelled my determination to make the most of this opportunity. Upon arrival, the support provided by Vita Student was instrumental in easing the initial adjustment period.
The friendly staff greeted me warmly, helping me settle into my new room. They provided valuable information about the local area, including transportation, grocery stores, and nearby amenities. This support system was invaluable in alleviating the initial culture shock and making me feel more at ease. They also helped me get my suitcases to my room and welcomed me with a box full of free goodies and vouchers essential for students like me at university. It was also lovely to have a tour of the exciting amenities in the building like the games area, laundry room, movie theatre and gym. Altogether, the moment I entered the building, I knew I made the right choice.
settling into uni life
Adjusting to a new country and culture can be a transformative experience. One of the most significant factors in easing this transition was the ease with which I made friends. The diverse student community at Vita Student provided ample opportunities to connect with people from various backgrounds. Social events, study groups, and shared living spaces facilitated the formation of lasting friendships. While there were similarities between Indian and British culture, I encountered several differences that required adjustment. The education system, for instance, placed more emphasis on independent learning, critical thinking, and active class participation. Adapting to this new approach required time and effort, but the supportive academic environment helped me develop these essential skills.
Living at Vita Student was an absolute blast for a fresher like me! The community there was so welcoming and inclusive, creating an environment that made it easy for me to feel at home right away. And let me tell you, the events they organized were a major highlight of my experience! From private chef masterclasses to pilates classes, and from cultural celebrations like Chinese New Year, Eid, and Christmas, Vita Student made sure there was always something exciting happening. Attending these events not only allowed me to explore new interests and hobbies but also provided a fantastic opportunity to meet like-minded individuals from diverse backgrounds.
Find out more about life at Vita here.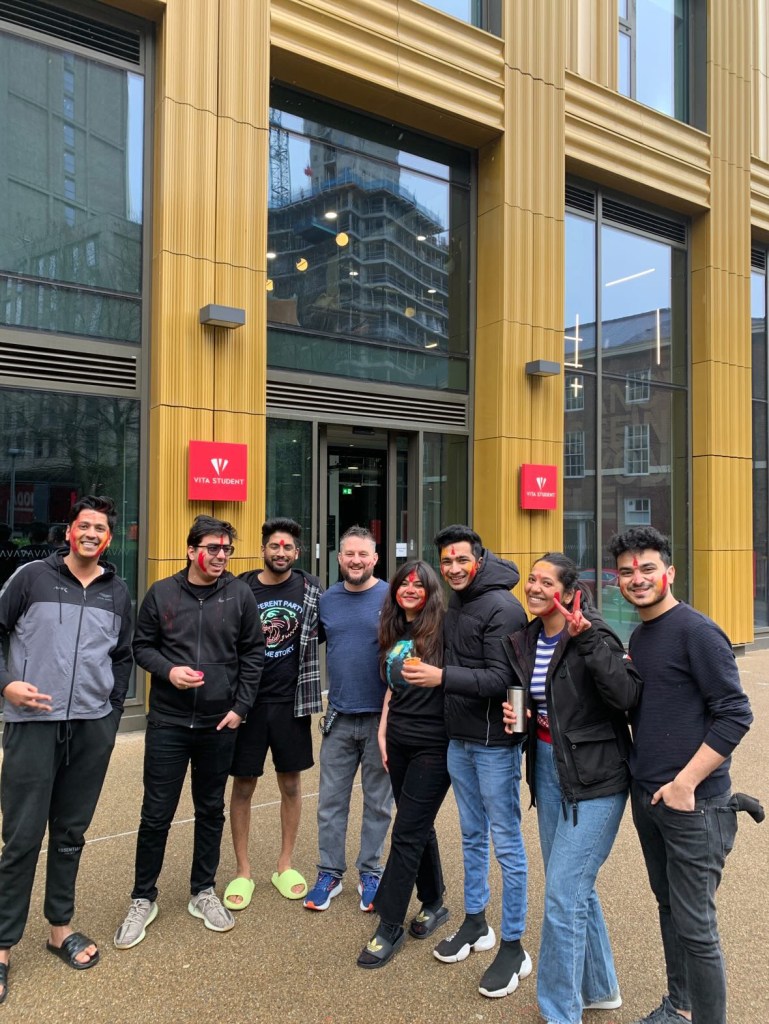 But the best part? These events were the perfect recipe for making new friends. Whether we were mastering our cooking skills together or celebrating cultural festivals, there was always an opportunity to strike up a conversation, bond over shared experiences, and build friendships that last a lifetime. Vita Student truly knows how to bring people together and create a sense of belonging. These events also provided a platform for cultural exchange and learning. Through celebrations of different festivals and traditions, I gained a deeper understanding of various cultures and experienced the inclusivity that Vita Student fostered.
As an international student, sometimes there can be concerns about feeling excluded or disconnected. But let me tell you, those worries vanished as soon as I stepped foot into Vita Student. The staff members were like superheroes, always there to guide and support me throughout the process. Their warm and friendly nature made me feel instantly at ease, and I knew I could turn to them whenever I needed assistance.
The events organized by Vita Student played a massive role in making me feel like part of a vibrant community. They made it easy to connect with fellow freshers in the most enjoyable way possible. It was comforting to be part of a community that embraced diversity and ensured that all students, regardless of their background, felt included and valued. So, my fellow fresher, if you choose to live at Vita Student, get ready for an adventure like no other. It's a place where you'll be surrounded by friendly faces, where making friends and enjoying new adventures is all part of the fun. Trust me when I say you'll never have a dull moment. The memories you create at Vita Student will be some of the best of your university journey. I know mine certainly are!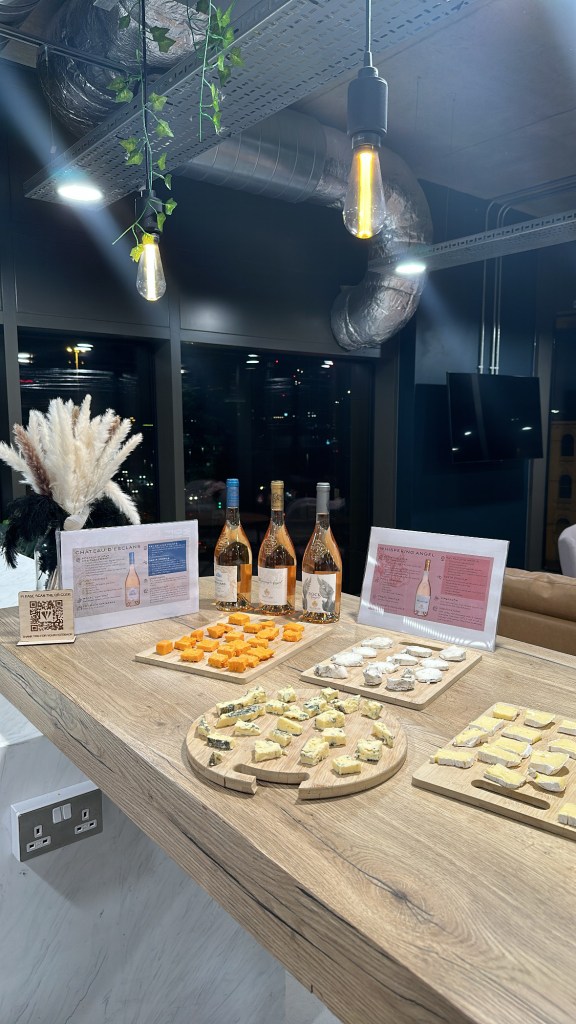 top advice for indian students moving to the UK
1. Embrace multiculturalism:
The UK is diverse and welcoming, making it easy for Indians to feel at home. Enjoy the cultural events, connect with people from different backgrounds, and celebrate your heritage.
2. Stay connected with the Indian community:
Engage with Indian student associations and organizations to find support, make friends, and celebrate your culture together. Join clubs like the Indian student association to be part of regular events and Bollywood nights!
3. If you miss the taste of home, don't worry!
The UK has a wide range of Indian restaurants and grocery stores where you can find familiar ingredients and flavours. Treat yourself to authentic Indian dishes and spices to satisfy your cravings and feel closer to home.
4. Utilize support services:
Universities in the UK provide excellent support services for international students, including dedicated international student offices and academic advisors. Don't hesitate to seek their guidance whenever you need assistance with academics, visas, or personal matters. They are there to help you have a smooth and successful experience.
5. Engage in extracurricular activities:
Joining clubs, societies, or sports teams is a great way to meet people, develop new skills, and enhance your university experience. The UK offers a wide range of activities catering to different interests. Whether it's music, dance, sports, or academic pursuits, you'll find plenty of opportunities to get involved and make the most of your time in the UK.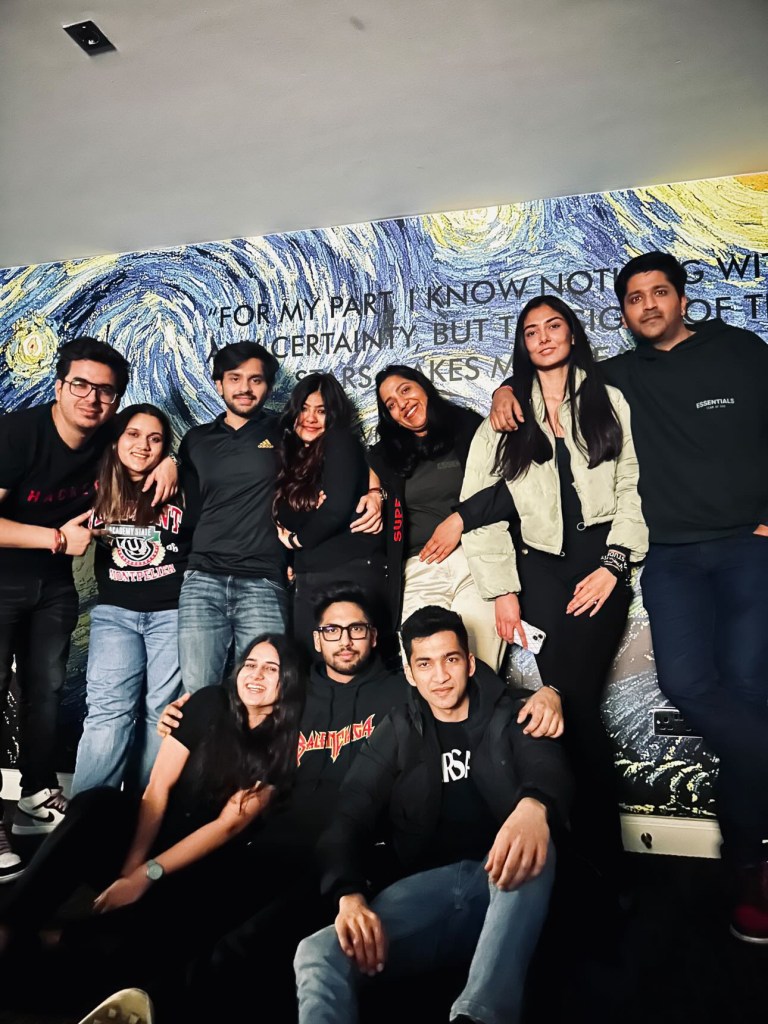 As for recommending studying in the UK, absolutely! I am enjoying world-class education, a multicultural society, and ample opportunities for personal and professional growth. The universities provide a supportive environment for international students, and the UK's strong reputation in various fields opens doors to global opportunities. The universities here are incredibly supportive, creating an exciting environment for freshers like you to thrive. Get ready for a wild social scene in the UK! University life is a whirlwind of vibrant parties, epic gatherings, and unforgettable nights out. From themed events to club nights, there's always something happening. Make friends, dance your heart out, and experience the electric energy of the UK's university social scene.
My favourite stuff about living here? Living in the UK is a dream! The people are incredibly chill and accepting, creating a welcoming atmosphere. The lifestyle is top-notch, with a perfect balance of work and play. The food scene is diverse and delicious. Plus, the high-tech studies offer cutting-edge learning experiences. It's a place where you can truly be yourself and bloom.