Studying from home has well become the new norm in recent years. Whether it's for mid-term or end of year exams, if you're a student, you're bound to be in the midst of preparation. But how do you study effectively at home when there are so many distractions?
We all procrastinate, but when you are in the comfort of your own home it suddenly becomes a whole lot harder to keep your head down and stay focused. That's why we at Vita Student have put together our very best tips to help you study at home.
Related topics: How to prepare for academic challenges
1. Figure out a routine
One of our top study tips is to first and foremost figure out a routine. This creates structure and will help you prioritise what's important.
Make a routine that works bests for you. For example, if you are most focused in the mornings make sure you set your alarm bright and early. If you work best in the afternoon/evening, then create your routine around this.
Everyone is most efficient at different times of the day and if you're unsure what works best for you, try a few different routines until you find the one where you are most productive and efficient.
If you want to really study effectively at home, then make sure you get up and dressed. No more working in your comfy pyjamas! Research suggests that getting ready and putting appropriate clothing on for the day increases productivity and is also great for your mental health.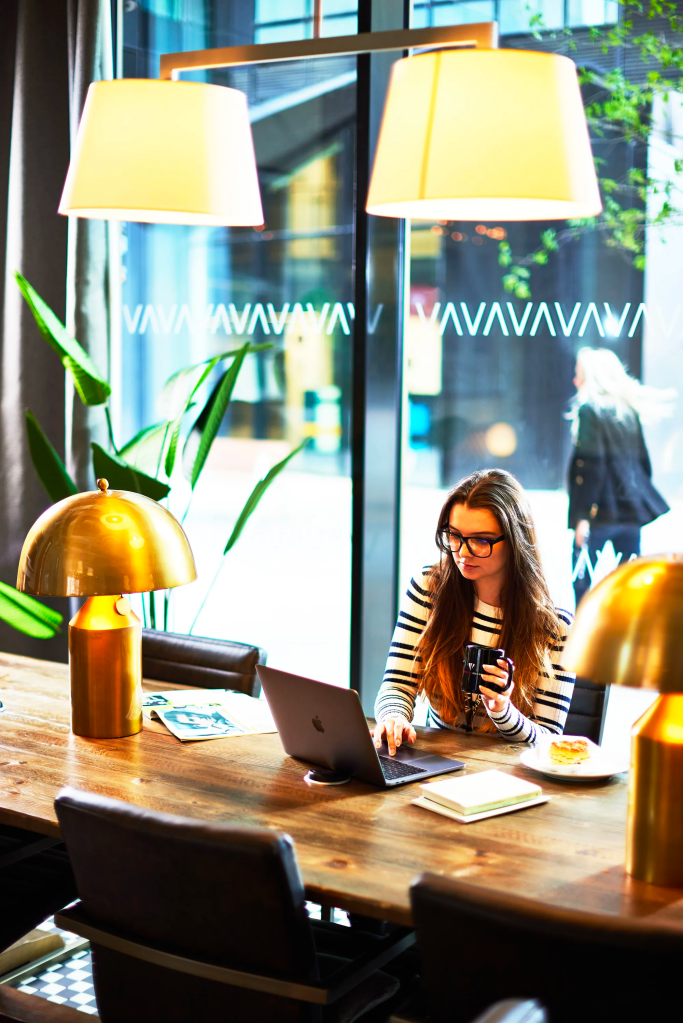 2. Set up a study space
Another one of our top ways to study is to make sure you have a dedicated area for working. Set up a desk near a plug socket and try to be sat near a window. Unnatural lighting increases tiredness, therefore making it more difficult to study.
You should also make sure that you have a supportive chair. Slouching on a couch all day will make you feel sluggish, and an improper desk chair will end up hurting your back and effecting your posture.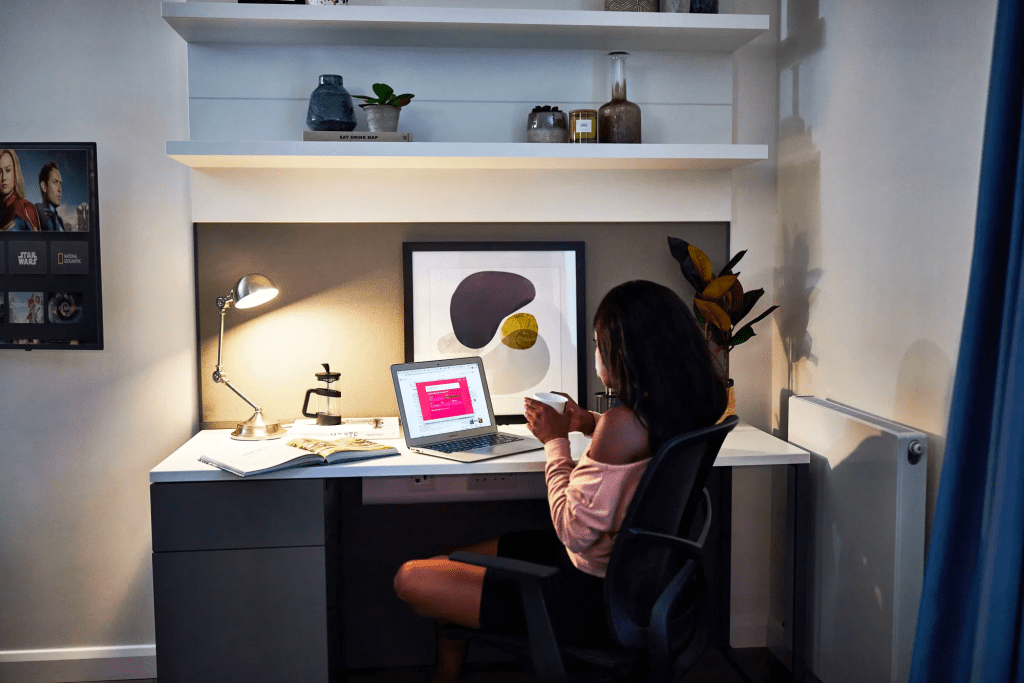 Your workspace should also be away from any distractions, for example if you have housemates that are in all day then choose an area where they won't be able to distract you.
Make sure the area is a space for studying at home and for that purpose only. This will make it easier for you to switch on and off.
3. Get a good night's sleep
Studys say that a lack of sleep can make it more challenging to maintain focus, attention and vigilance. Not ideal when you have a big exam you need to prep for!
If you know that you need to spend the day studying effectively at home, then make sure you get a restful nights sleep the night before.
Go to bed at a reasonable time and ensure you put all electronic devices away 30 minutes before bedtime. Getting at least 7–8 hours of sleep a night will ensure that your brain is fully stimulated and ready to go the next day.
If you struggle to fall asleep, then take a relaxing bath or listen to some calming music.
4. Have a study plan/be organised
A great tip to help you study is to make sure you have a study plan in place. If you have an exam or assessment coming up, then plan in more of these topics to research and study for.
You should also make sure you're planning in break times to split up your day. Make realistic daily goals that are achievable.
Creating a study plan with unachievable goals will only add extra stress and you'll end up giving up entirely.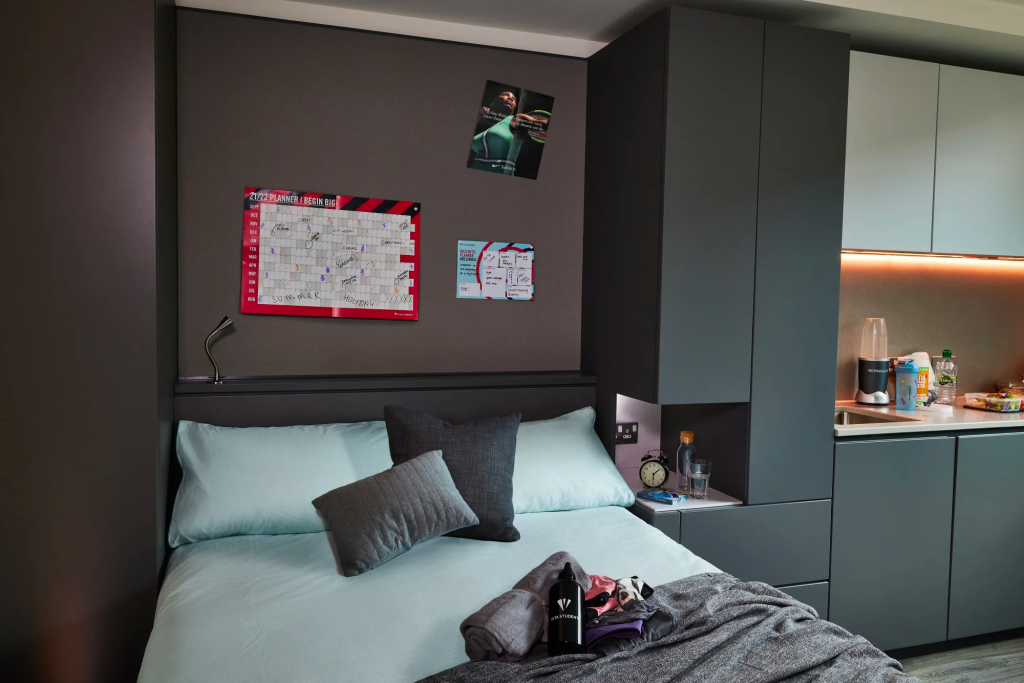 When it comes to studying effectively, there can be many distractions around you. Most of us have spent endless amounts of time scrolling through social media, messaging in the group chat or watching the latest Tik Tok.
If you are (like most of us) someone who is easily distracted, then keep your phone or tablet in a separate room to where you are studying. You can even switch your phone off to avoid being tempted to check what that latest notification was you heard.
Making sure all electronic devices, other than your laptop of course, are out of reach will help you study effectively without any unnecessary distractions.
6. Stay active
Staying active can stimulate your brain and keep you energised throughout the day. If you are already an active person then that's great! Keep up the good work. If you would describe yourself as being a bit of a couch potato, then there are simple ways you can begin.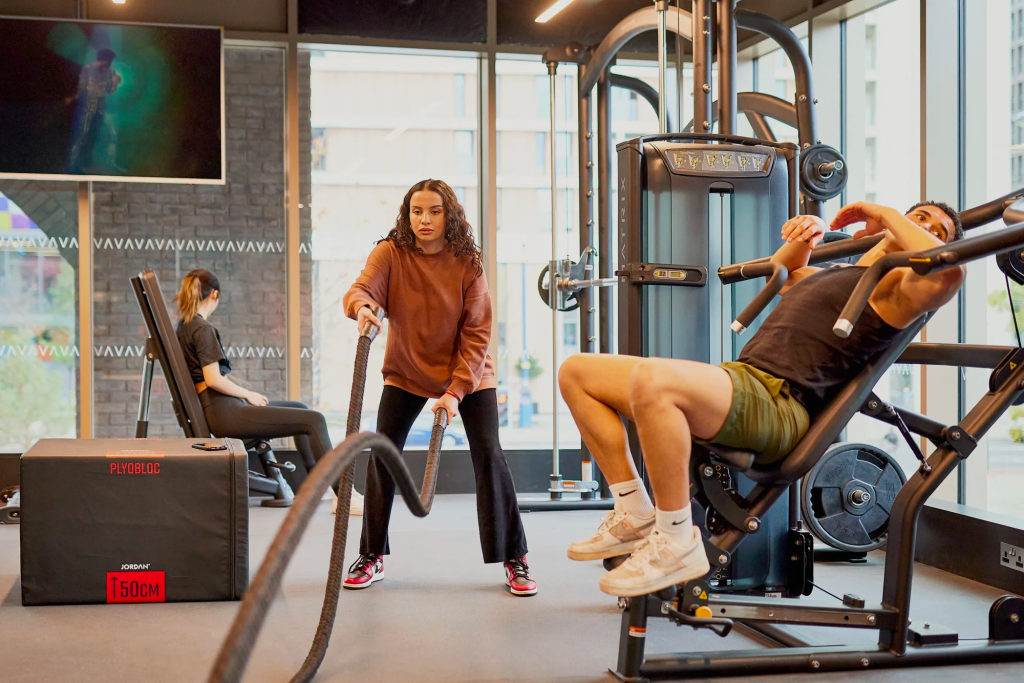 For example, take a half hour study break to take a walk and enjoy the outdoors. Or if you want to start working out with weights, most gyms offer a student membership and have classes available. If you're at Vita Student, you can access the on-site gym for free, at any time.
There are also some fantastic apps that can help you increase your fitness levels, such as Couch to 5k – which helps ease you into a regular running routine and is recommended by the NHS.
7. Find your beat
This is a bit of a tricky one when it comes to studying effectively at home. People are often divided as to whether music can help you stay focussed or not. Some people find they are most efficient when they are in silence. Others find it better when they have music playing in the background.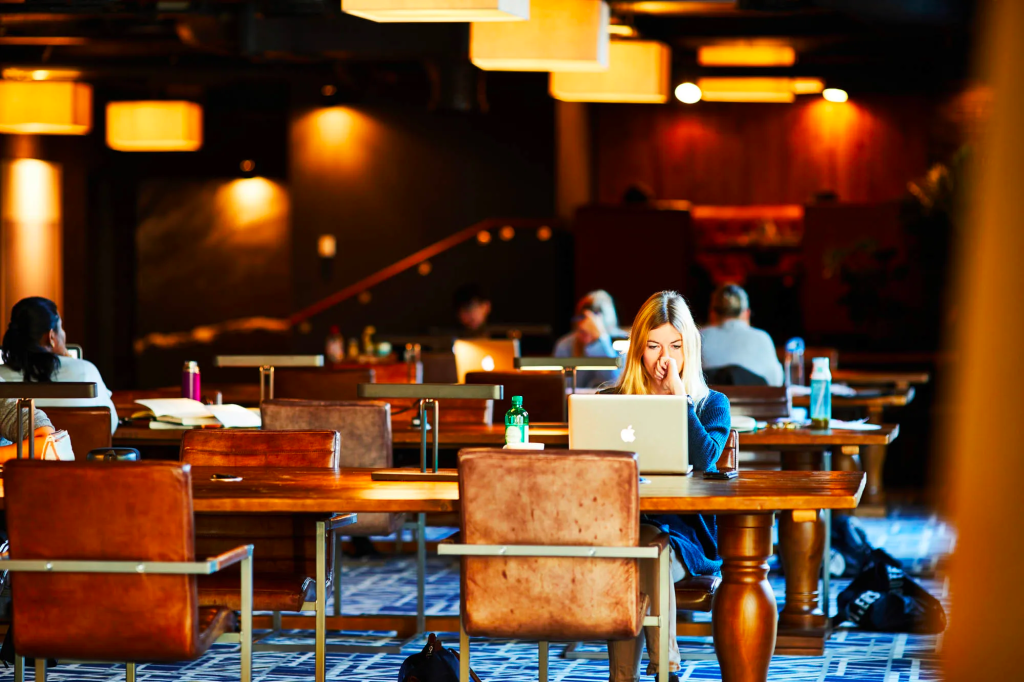 If you are the type of person who doesn't like silence but also can't focus with music, then Spotify has some great playlists available that recreate everyday background noises. Think of coffee shop ambience.
8. Take regular screen breaks
Taking regular screen breaks is one of the best tips for studying at home. You should ideally be taking a 5 – 10 minute break every hour to recharge.
If you are sat in front of a monitor for a long period of time, then you will start to feel restless and tired. Use your screen break to get some fresh air, make a coffee or grab a snack. This will make you feel more awake and give you the time you need to switch off for a few minutes.
9. Engage in Zoom calls
Studying at home can quickly become lonely, so you should try to organise an online study group with course mates. This can not only keep you focussed and increase motivation, it also helps you stay sociable, which is super important for your mental health.
Universities also have lots of online resources to keep you in touch with your course mates so take advantage of these!
We have some more excellent study tips for when you are isolating!
10. Don't work from your bed
We know it's tempting to stay in bed all day, especially when it is raining outside, however studying from your bed is a bad idea.
It is an incredibly ineffective way of studying and will also affect your sleeping habits. It is important to study in an environment that you know you will focus. Being in your bed will often lead to a nap and you'll wake up feeling groggy and unmotivated.
11. Eat a nutritious meal
Having a healthy, balanced diet is important not just for studying, but for everyday life. Eating the correct things will give you the energy you need to keep focused throughout the day.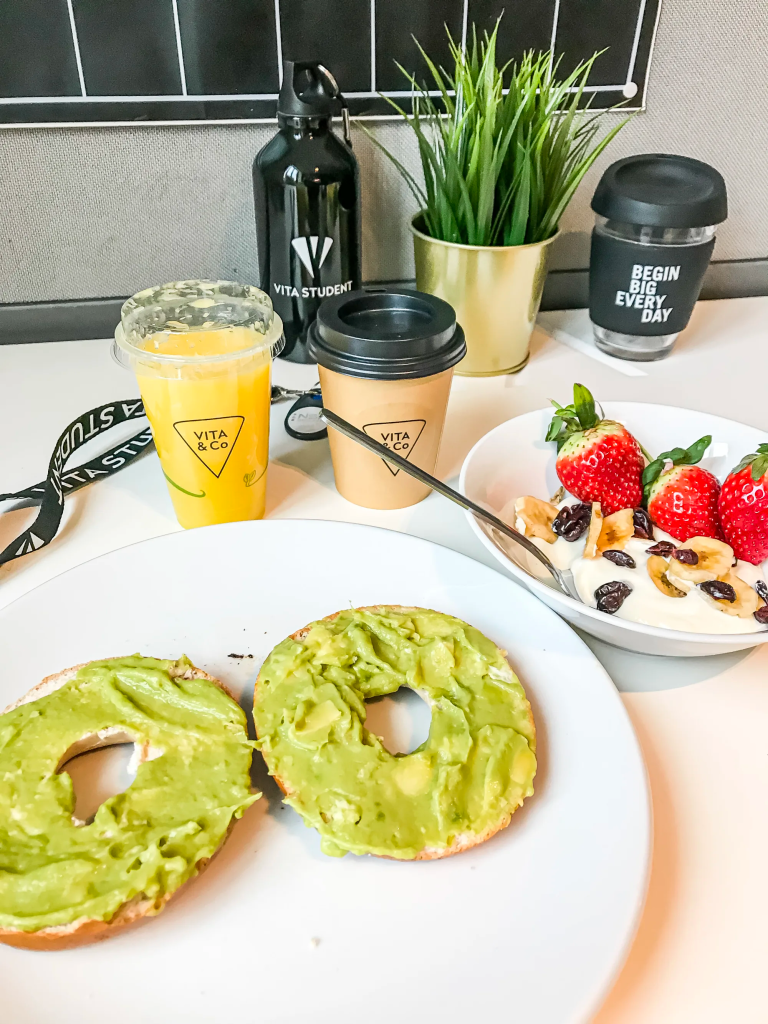 If you are wanting to spend the day studying effectively at home, then make sure you eat a healthy and nutritious breakfast. Not only will this stop you from snacking on chocolate and crisps throughout the day, but it will also give you huge amounts of energy and will positively impact your mood.
There are a number of 'power foods' you can have that will boost efficiency such as nuts, yogurt and fruit. At Vita Student, we provide healthy 'grab and go' breakfasts each morning, so you can rest assured you're starting your day the right way.
12. Shut down
A tip to help you study which is just as important as the rest is to shut down. Finding a good work / life balance when studying at home can be difficult and it is important you don't blur these boundaries.
It is tempting to leave your computer on and 'just do half hour more', especially if you haven't got any evening plans. However, over studying can lead to burn out and you'll end up having little energy and motivation.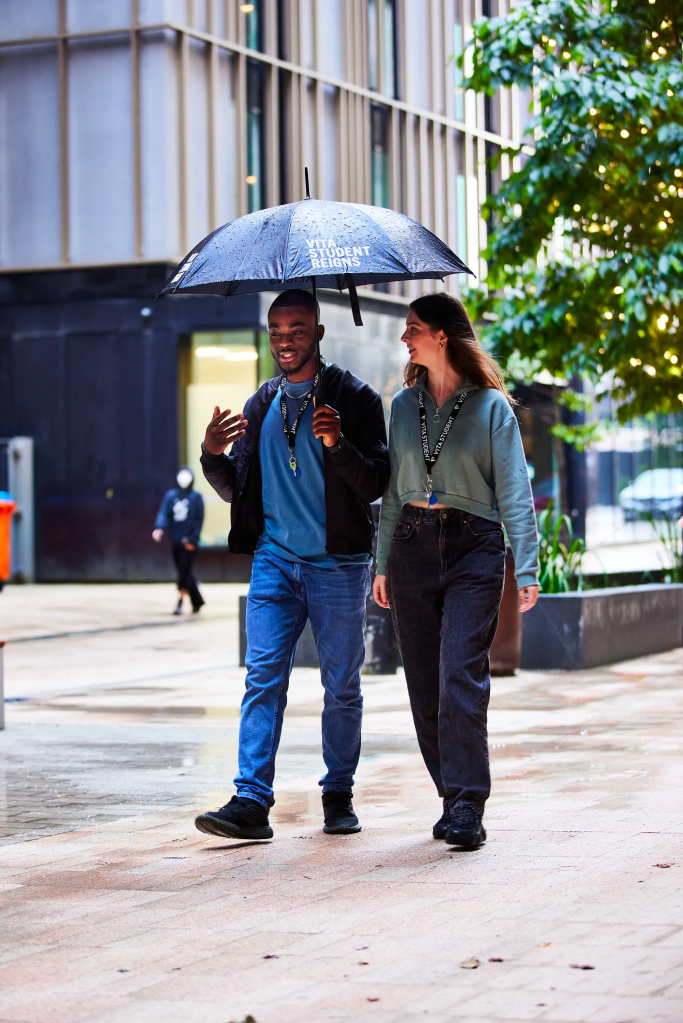 When creating your study plan that we discussed above, make sure you plan in the end of the day. It helps to have an end of day ritual so that you know study time is done. This can be something as simple as shutting down your computer for the day or you can choose something a bit more elaborate, for example doing a 10-minute yoga practice or going for a quick walk.
How to study effectively at home concluded
Studying at home can be a completely different experience to the university library and it is important you don't lose motivation. Everyone has different strengths and weaknesses so there is no 'one plan fits all', however we hope our top tips on how to study effectively at home has helped and there are a few takeaway notes.
As a recap, our top tips for studying at home are:
1. Figure out a routine
2. Set up a study space
3. Get a good night's sleep
4. Have a study plan / be organised
5. Don't have your phone
6. Stay active
7. Find your beat
8. Take regular screen breaks
9. Engage in Zoom calls
10. Don't work from your bed
11. Eat a nutritious meal
12. Shut down
If you enjoyed this article, then head to our blog, where you'll find loads more related content such as how to prioritise your wellness and how to make friends at uni!